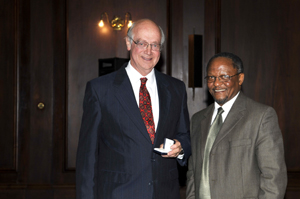 Long-serving Council member Richard Rosenthal
Richard Rosenthal has been a member of the UCT Council since July 1993, a total of 15 years.
During this period Mr Rosenthal has made significant contributions to the Council. He is an attorney with a long and impressive client list and he has helped most of the successful NGOs around to put their affairs in order. He has had a major hand in shaping the laws that regulate the tax position of NPOs – that is those NGOs that are non-profit organisations – and made sure that the position of the university and of the UCT Foundation was protected under this legislation.
His contributions as a UCT Council member in a period of much change have been varied indeed. Here are but some. Mr Rosenthal was:
the convener of the committee that drew up the proposals for the composition of the new Council and that drafted the last UCT Act;

a Trustee (appointed by Council) of the UCT Retirement Fund

a member for many years of the Audit Committee

the person who drafted (most of) the new trust deed of the UCT Foundation;

the person who drafted most of the founding documents for the Cape Higher Education Consortium when it was formed out of the ashes of the Adamastor Trust, which had, in turn, been formed out of the Committee of Vice-Rectors of the then five Western Cape higher education institutions.
---
This work is licensed under a Creative Commons Attribution-NoDerivatives 4.0 International License.
Please view the republishing articles page for more information.
---