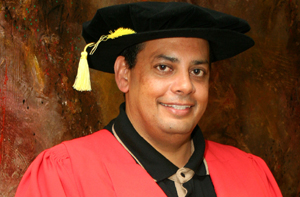 Red-letter day: In his inaugural lecture spoke of the need to mix traditions and knowledges.
As Professor Kurt April set out to answer a question,"Is Business a Discipline?", in his inaugural lecture, he drew the answer from his own melting-pot experiences and research.
April recounted how he started as a technikon student in engineering, was inspired by his girlfriend's studies at UCT in the mid-1980's to complete an education degree here, then stayed on for both a bachelor's and master's degree in electronic engineering.
Then he changed direction sharply, opting for an MBA at the Graduate School of Business (GSB). Much to the horror of his mentor, the late Professor John Bell, a physicist who frowned at the "corrupting nature and superficiality" of business.
The GSB would become April's home - he is now professor of business administration - and over time learned more of the complexity of boundary-crossing systems, of the need to marry specialists with generalists, of the value of interdisciplinarity and hybridisation.
He talked of "crossvergence", the "blending of values" and opportunities that spring from the meeting of cultures. Such as when a Western scholastic approach - based on facts and logic '" merges with African humanism, embodied in storytelling, symbolism and myth.
April's answer to his initial question, partly a response to his late mentor, is that business is indeed a discipline, but one that is hybrid in its sense-making and influences.
"In everything in life, there is a place of balance," he said.
---
This work is licensed under a Creative Commons Attribution-NoDerivatives 4.0 International License.
Please view the republishing articles page for more information.
---