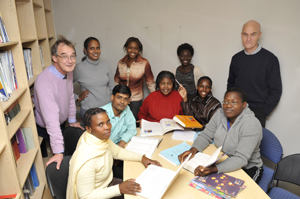 Research boost: Wellcome Trust Fellows Assoc Prof Robert Wilkinson (left) and Dr Graeme Meintjes(right) with senior students at the IIDMM.
The fight against HIV and TB received a boost when the Wellcome Trust recently granted a consortium of researchers, led by Associate Professor Robert Wilkinson, £3-million (R45 million) to establish a Centre for Clinical Infectious Disease Research at UCT.
The grant was part of an African £20-million investment by the trust, in research and training in Africa, aimed at ensuring that researchers are equipped to tackle the most pressing problems in their respective regions.
Awards have also been made to research programmes based in Kenya,Uganda and to Professor Brian Greenwood from the London School of Hygiene and Tropical Medicine to support training for African scientists to undertake malaria research in African universities.
The UCT centre will focus on HIV and TB, which are among the main causes of death in Sub-Saharan Africa, says Wilkinson, UCT's Institute of Infectious Diseases and Molecular Medicine and a Senior Fellow of Clinical Tropical Medicine for the Welcome Trust, the UK's largest medical research charity.
Wilkinson says the situation is dire. Life expectancy had fallen to below 50 years in a number of African countries.
"Added to the crisis is that remaining in Africa to help combat these problems is not attractive for the few doctors and scientists that the continent produces.
"We therefore requested an increase in the core support to an existing group of Welcome Trust and other agency-funded researchers in Southern Africa, to link them more effectively and thereby provide better career prospects for African researchers."
Around 25 entry positions in research will be established to develop the skills of scientists working in Southern Africa so that they can compete better for their own funding. In addition, the capacity to conduct clinical and laboratory research will be enhanced.
---
This work is licensed under a Creative Commons Attribution-NoDerivatives 4.0 International License.
Please view the republishing articles page for more information.
---