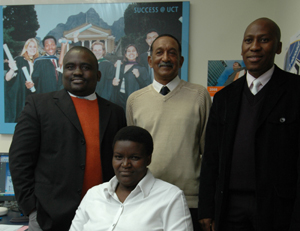 Talent scouts: Recruitment Team members include, back, Thando Tsotsobe, Iegsaan Isaacs and Gcinumzi Haduse, and Nolindo Wabani (seated). Absent on the day was Nambita Ngcingwana.
Who are they?
The section is staffed by manager Iegsaan Isaacs, officers Thando Tsotsobe, Nambita Ngcingwana and Gcinumzi Haduse, and assistant Nolindo Wabani. In addition, the work of Roger Wood of the Faculty of Engineering & the Built Environment, Joy Erasmus of the Faculty of Humanities and the Faculty of Science's Shanaaz Smith contain a student recruitment element, and they co-operate with the team.
What do student recruitment officers do?
The team supports the enrolment objectives of the faculties, provides prospective UCT students with the requirements to make informed decisions about their studies, and maintains strong relationships with traditional feeder schools. Simultaneously, they develop relationships with new schools and communities, including township and rural communities. The team visits schools across the Western Cape, targeting Grades 9, 11 and 12. A number of other provinces are also visited to recruit Grade 12s. The team also attends career exhibitions, host recruitment-related events like the Open Day, UCT information evenings and afternoons in communities, as well as interviews learners and parents, and hosts school tours. To do this, team members need to be armed with good communication skills, particularly good public-speaking and networking skills, a good understanding of the secondary school sector and a sound understanding of UCT.
What are the highs and lows of the job?
The highs are witnessing the difference they make to individuals' aspirations, building relationships with whole communities throughout the country, and witnessing graduations that the officers may have had a hand in. Among the lows are witnessing the low standard of schooling still evident in many areas and having to inform learners that they do not meet the requirements for admission.
How do you select areas for recruitment?
The office looks at whether the school/s is functional, at the recent school-leaving results of a school, the recent application record of a school, whether the school is part of broadening relationships within a wider community, and if the school is linked to another initiative at UCT.
---
This work is licensed under a Creative Commons Attribution-NoDerivatives 4.0 International License.
Please view the republishing articles page for more information.
---