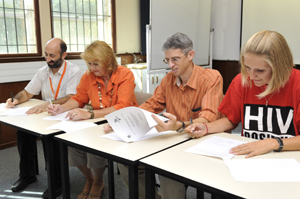 Done deal: The signatories of a memorandum of agreement among UCT's School of Public Health and Family Medicine, CANSA and the TAC were (from left) Prof Leslie London (UCT), Stephanie van Deventer (CANSA), James Irlam (UCT) and Anna Grimsrud (TAC).
UCT's School of Public Health and Family Medicine has signed a memorandum of agreement with the Cancer Association of South Africa (CANSA) and the Treatment Action Campaign (TAC).
Speaking after the signing, the School of Public Health's Professor Leslie London, convenor of the fourth-year programme, said the agreement represented valuable teaching and service opportunities between the university and the NGO sector.
It will see fourth year medical students being placed at these NGOs during their eight-week primary health care and public health blocks.
They will work on epidemiological projects that promote health in clinics where the TAC and CANSA are active.
"We chose these NGOs because of their highly functional profiles," said the Public Health Division's Gavin Weir. "This will give our students good insight into the work of these NGOs."
Representatives of both NGOs said their ability to promote health care had been hampered by shortages of staff and resources. The students would provide a welcome boost.
For example, CANSA is active at the Grassy Park clinic, where students are running an anti-smoking campaign, a "simple, doable intervention," said Stephanie van Deventer, CANSA's provincial manager in the Western Cape.
"There are high incidences of smoking-related illnesses in the community. The students have planned a health promotion intervention while patients wait to be seen at the clinic."
Van Deventer said CANSA had been impressed by the students' "doable" intervention and were considering funding a roll-out in a larger area of the Cape Metro region.
In turn, UCT students are benefiting from exposure to sustainable community interventions. "And we've found the students enjoy different kinds of learning processes," London said.
---
This work is licensed under a Creative Commons Attribution-NoDerivatives 4.0 International License.
Please view the republishing articles page for more information.
---