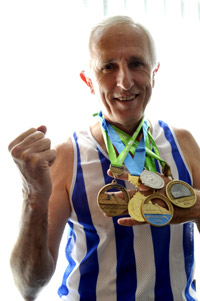 Medal Madness: Prof Eric Bateman, who runs for Varsity Old Boys, shows off his full collection of Two Oceans Ultra Marathon medals. Bateman picked up the last one - the blue - with an "easy" run of just over six hours, pipping one Bruce Fordyce, who still shorts the blue medal.
It was one marathon during which Varsity Old Boys' Professor Eric Bateman could stop to smell the roses along the way. It's true to say most marathon runners are obsessed with time: how fast over the distance, how close to a medal finish.
Not so for Bateman, director of the UCT Lung Institute, who planned no less than four tea stops along the 56km-Two Oceans marathon route this year.
It wasn't so much his penchant for rooibos or the company of his wife, Mary, at the pit stops, but to ensure he crossed the line in six hours and one minute, earning a coveted blue medal.
A former national marathon champion, and nominee for Roadrunner of the Year award, Bateman is a veteran Two Oceans competitor. He's completed 28 Two Oceans marathons since 1971, building up an impressive array of medals: two Golds, 15 Silvers, Sainsbury and Bronze medals. But the one missing from the cabinet was the Blue, awarded to those who clock between six and seven hours.
It meant slowing his pace and making sure he didn't cross the finish line a second before six hours.
Now he has the blue, he has the full suite of medals, or the "royal flush" as he calls it, reportedly going one up on Comrades icon, Bruce Fordyce.
(Gold medals, sponsored by Harmony Gold, go to the 10 first male and female finishers. The first three males and females in each age category are awarded Gold, Silver and Bronze medals. Silver medals go to all finishers from 11th position to the 04:00 cut-off. The Sainsbury Medal is awarded to finishers between 04:00 and the 05h00 cut-off. Thereafter bronze medals go to all other finishers in under 06:00. A blue medal goes to all those who finish between 06:00 and 07:00.)
---
This work is licensed under a Creative Commons Attribution-NoDerivatives 4.0 International License.
Please view the republishing articles page for more information.
---