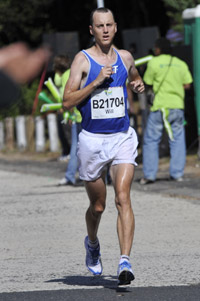 Double the trouble: William Robinson, here just before entering UCT at the end of the Two Oceans Ultra Marathon, is in line to win the Two Oceans Floating Trophy for the best combined times of this year's ultra and the Argus cycle tour.
Final times are still being tallied, but UCT's William Robinson may well have won himself the Two Ocean Floating Trophy for the best combined times over this year's Cape Argus/Pick 'n Pay Cycle Tour and the Old Mutual Two Oceans Ultra Marathon. Robinson, a doctoral student in mathematics and a member of both the university's athletics and cycling clubs, clocked a sprightly 2:40:03 in the Argus, and followed that up with an equally wing-footed 3:52:57 in the Two Oceans race a few weeks later.
That combined time - if the officials sign off on it - of a flat 6:33:00 is more than five minutes faster than the 6:38:43 record set in 1999 by Julius Oosthuizen, when the Argus was a full four kilometres shorter than its now 109km. (The 2007 winner may have bettered Oosthuizen's - and Robinson's - time already, however, and Monday Paper is awaiting confirmation from the cycle tour officials for final and record times.) Which means Robinson will be kept in suspense for a while still.
The floating trophy is only awarded at the Argus prize-giving ceremony, and the date for that is yet to be pinned down. Watch this space for updates.
---
This work is licensed under a Creative Commons Attribution-NoDerivatives 4.0 International License.
Please view the republishing articles page for more information.
---