The grass will be greener: John Critien, executive director of the Properties and Services Department; John Donald, head of sport and recreation; and Chris Briers, project and engineering manager at UCT, check out the work on the Kopano soccer field, about to get a R5.5-million facelift.
In a project that will take 21 weeks at a cost of R5.5 million, a state-of-the-art artificial soccer turf is being installed. When complete, it will be the first FIFA-accredited artificial soccer turf in the country.
It's a long and complicated process. After all the natural grass is removed, the ground is prepared and a drainage system is installed. A rough polypropylene base is laid, followed by a smooth top layer of crumbed rubber, which holds the artificial grass in place. The final effect is very similar to natural grass, but without the disadvantage of wearing out and requiring constant maintenance.
"The advantage of having artificial turf is that it allows for extended use, particularly during winter," explains John Critien, executive director of Properties and Services.
"There has been a resurgence of the popularity of footie as we approach 2010, and this is to be encouraged.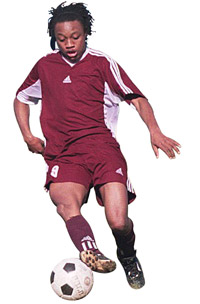 "Unfortunately, we have only the one soccer field - Kopano - and if you ask around you will know that it becomes "played out" with sand patches in the goal areas and around the centre. When it rains it becomes a nightmare, with mud and pools all over."
The new artificial turf requires little attention, and is durable enough to be in constant use without damage. Twenty-four hours a day even, suggests John Donald, head of sport and recreation at UCT.
With some 35 soccer teams jumping and sliding and running across the turf, the field gets a thorough working over each year. "The field just gets kicked to pieces," says Donald.
The R5.5 million comes from the Notes Levy Fund, which is made up of money that accumulated over the years before the move to course-based fees.
"In the past, students paid a levy to cover the costs of the notes they would be given by a lecturer, such as course materials and lab notes, in the various courses," explains deputy vice-chancellor Professor Thandabantu Nhlapo. "With the move to an all-inclusive, course-based fee, there is no longer a need to pay notes levies, but by this time quite a significant amount had accumulated in the fund.
"Council decided that these monies could, by application, be released only for projects that would strictly benefit students as a whole."
As well as the main field, a new five-a-side field will be built where the old reservoir currently is, and a new underground water tank is being built above the field. The embankments, seating and fencing will also be overhauled.
Imported from Belgium, the artificial turf will be installed by accredited BEE company Artificial Grass Africa (AGA), who will be assisted by FIFA officials.
"This FIFA-accredited field will allow for a sixfold increase in playing hours, eliminate all natural grass maintenance, resting and repair, and of course it will not require the three million litres of water a decent grass soccer field needs every summer," says Pierre de Groote, CEO of AGA.
"It will be of a standard suitable for international teams to play on."
---
This work is licensed under a Creative Commons Attribution-NoDerivatives 4.0 International License.
Please view the republishing articles page for more information.
---