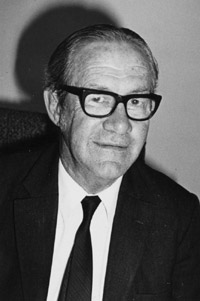 PG McDonald, known to many of his contemporaries as Mr Mac, has died in Knysna, aged 92.
He was registrar at UCT from 1971 to 1978, at a time when the university had a unitary administration, all administrative departments falling under the registrar whose responsibility was to co-ordinate their work and ensure inter-departmental co-operation. McDonald joined UCT in 1946 as a senior clerk. He matriculated at Grey School in Port Elizabeth and though he won a bursary to Rhodes, his family's circumstances prevented him from taking this up, and he enrolled with the University of South Africa, obtaining a BA degree in 1938. He had joined the public service in 1935 after leaving school, during World War II, and returned to work in the office of the Comptroller and Auditor-General. During this period McDonald completed the examinations of the Chartered Institute of Secretaries, obtaining first place in South Africa. He had an unshakeable belief in the value of night classes.
With him in 1946 came John Benfield, registrar from 1955 to 1971, and Len Read, who succeeded him as registrar from 1978 to 1983, all from the Auditor-General's office.
McDonald became Assistant Accountant in 1957 and Accountant two years later, succeeding the legendary Mr Knott-Craig (the University's Accountant headed the finance department and enjoyed the same salary as a professor - in 1961, after decimalisation, this was R4 500 per annum). Two years later the position was re-designated Finance Officer, and Len Read became the Deputy Finance Officer.
He retired at the end of June 1978, after 32 years in UCT's administration.
McDonald's term as accountant/finance officer from 1959 to 1970 and registrar from 1971 to 1978 was one of significant growth and significant challenge. At his retirement in 1978, acting chairperson of Council, Judge Marius Diemont, paid tribute to "his long period of loyal and unstinting service to the University", while Sir Richard Luyt said that "he had won the respect and affection of the University at large". Among the major challenges with which he had to contend were the introduction of the first formula for State funding driven by student enrolment (the 1974 publication of the Van Wyk De Vries Commission's report on state funding of universities) and the introduction of the Associate Institutions Pension Fund (AIPF) in 1961 or 1960, to both of which he made important contributions. In the 1920s and 1930s UCT (due to the energy of such people as Mrs Fuller after whom Fuller Hall is named) adopted equal pay for women; in the late 1950s, due largely to Mr McDonald's influence, UCT admitted all grades of full-time staff to the new AIPF pension fund, at the time the only SA university to do so.
Mr McDonald and his wife Grace moved to Knysna in 1990 where he had the pleasure of family members. It will come as no surprise to those who knew him that until last year, at the age of 91, he meticulously completed his own annual income tax returns; that he did not do so this year in his 92nd year was an indication of failing health. He is survived by his widow Grace McDonald (to whom he had been married for over 60 years), their son and daughter, and their grandchildren.
---
This work is licensed under a Creative Commons Attribution-NoDerivatives 4.0 International License.
Please view the republishing articles page for more information.
---