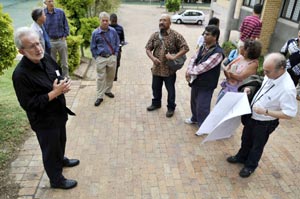 Connecting with the past: Prof Martin Hall and community members gather next to All Africa House on the site that was once the burial ground of slaves who worked on the Rustenberg farm
This past Saturday, Deputy Vice-Chancellor Professor Martin Hall hosted UCT's second public consultation about its proposed development near the Rustenberg burial site on middle campus.
The site is the final resting place of slaves who worked the farms along the Liesbeeck River in the 17th and 18th centuries. The land UCT now occupies was once the Rustenberg farm, and stretched from the present Main Road to the Summer House beneath the freeway.
Today, the site lies immediately next to and partially underneath All Africa House, built in 1996, before the burial ground was identified as such. It's thought that the human remains have long since been removed, but there are no records that can shed any light on when or where to.
As required by the South African Heritage Resources Act, UCT has over the past two weekends sought comments from interested individuals and groups on the two new buildings that it hopes to put up in the area near the burial site. This was also part of a wider consultation on the impact of the new buildings on the community.
In addition, the university is looking for proposals on how to memorialise the site, Hall emphasised.
The line of connection between UCT's middle campus in Rondebosch and Mowbray and the slave plantations of the 17th and 18th centuries remains largely unacknowledged," he said.
---
This work is licensed under a Creative Commons Attribution-NoDerivatives 4.0 International License.
Please view the republishing articles page for more information.
---