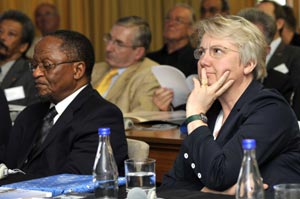 Collaboration: The Vice-Chancellor and Principal, Prof Njabulo S Ndebele, and the German Minister for Education and Research, Dr Annette Schavan, attended the signing of the co-operation declaration.
A declaration of co-operation has been signed between the Africa Earth Observatory Network (AEON-Cape Town) and GeoForschungsZentrum Potsdam(GFZ-Potsdam), marking the start of a second five-year phase of the Inkaba yeAfrica Earth science project.
GFZ-Potsdam is Europe's leading centre of geosciences. In Africa, AEON, hosted by UCT, is leading the way.
Inkaba is a top-level, cross-disciplinary research collaboration project between GFZ-Potsdam and AEON, focusing on Africa.
Why Africa? For starters, South Africa is the locus of dramatic changes in the Earth's magnetic field. And understanding the processes that formed the African continent are vital to an overall knowledge of how Earth systems operate.
The partners plan to establish a Global Change Observatory in Southern Africa to study climate change in the Southern Hemisphere. As developments at Davos have shown, earth stewardship has never been more imperative.
"In 10 years business schools will be teaching Earth stewardship science," said UCT's Professor Maarten de Wit (geological sciences), AEON director.
The second phase of the Inkaba project will see a bigger commitment to people; among them 21 postdoctoral and 44 PhD students from various universities, including newcomers to the project, the Universities of the Free State and Fort Hare.
---
This work is licensed under a Creative Commons Attribution-NoDerivatives 4.0 International License.
Please view the republishing articles page for more information.
---