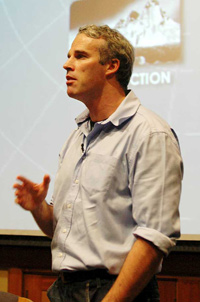 With Puff Daddy revving him up at the edge of the ice at the Geographic North Pole, Lewis Pugh shrugged his shoulders twice, took off his thermal jacket and prepared to jump into the sea.
The water was -1.7 °C. Freezing from the outside in, he began an epic swim of 18 minutes and 50 seconds, the first person to swim 1km at the North Pole.
His story is compelling, even four months after he stood on the pack ice, thinking of life and death.
Delivering a motivational talk at the Sports Science Institute recently, the UCT law graduate described how burly Russian polar bear guards had stood watch as he laboured through frigid water, 4 200m deep and the colour of mercury, unable to see, his goggles frozen to his face.
Pugh is phenomenal. He is able to elevate his temperature from 37 to 38.4 °C before he hits water this cold. Once immersed, his skin temperature will drop from about 27 °C to between 3 and 4 °C.
"Normally, this is enough to incapacitate - it causes gasping and such rapid breathing that swimming is impossible," said Professor Tim Noakes.
Noakes and his team at the UCT/MRC Research Unit for Exercise Science and Sports Medicine have been studying Pugh for some time. They provided valuable medical support at the Pole.
"Lewis has adapted his brain and body so that he's able to dive directly into freezing water without experiencing any such distress and to begin swimming immediately with his face under water."
Footage shows Pugh stripping down on a bleak, grainy day, with frostbite on the wind and ice floes drifting on limp swells.
There's only one way to get into water this cold: jump. Nothing comes close, not the English Channel at 18 °C, the sea off Robben Island at 14 °C - or the 5 °C water the Titanic sank in..
"He's an incredibly unusual person," Noakes said. "He has this great vision. He doesn't accept normal boundaries."
Pugh attributes this to an "incredible" father who told him stories of Arctic explorers.
"Since I was a small boy, I knew my destiny would lie in the Polar regions."
Pugh first came to Noakes' attention when he swam around Cape Point in 4m swells.
It was a tough entry to swimming. He nearly drowned coming onto the beach at the end.
"Then I already knew: this guy's unusual."
Unusual is good - for a sports scientist.
Pugh next swam around the Cape Peninsula from the Waterfront to Muizenberg, 100km in 13 days, and topped that with a 200km swim in a Norwegian fjord and then a 300km swim down the Thames River.
That's another thing about him. He's no porpoise. He's more like an icebreaker. Some call him a human polar bear. It's hard to believe he had his first swimming lesson at 17.
And then in December 2005 Pugh cl°Cked up one of the "most remarkable" sporting achievements Noakes had ever seen.
With a monitor strapped to his back, he swam 1.6km in 30 minutes and 30 seconds at Deception Island in the Antarctic in water of 2 °C.
In the final 100m his body temperature dropped to 35 °C and then to 34 °C within three minutes of finishing.
A few days before the Geographic North Pole swim he'd managed only 400m in his test swim at -1.7 °C. It was an unmitigated disaster. His hand swelled up, the cells having burst from extreme cold.
"I felt they'd been hit with a meat mallet," Pugh said. "The pain was indescribable."
He retreated to a hot shower on the ship, close to despair.
Like any endurance athlete, Pugh knew the battle would be won or lost in the mind.
"We're going to break this beast down," his mind coach David Becker, also a UCT law graduate, told him when they began final preparations.
Ten nations were represented on Pugh's team. Tobie van Heerden of the sponsoring company, Investec, planted the national flag of each in the ice along the route. The Norwegian flag was first; the South African flag in the middle. Among Pugh's team was the grandnephew of Arctic explorer Roald Amundsen.v
Amundsen led the first Antarctic expedition to the South Pole between 1911 and 1912 and was the first to reach both the North and South Poles. His name is attached to the first traversal of the Northwest Passage. But in June 1928 he disappeared during a rescue mission.
"You never give up in front of a Norwegian with that lineage," Pugh quipped.
Once he was in the water Noakes monitored him from the Zodiac puttering alongside.
His muscles would begin to cool from the skin's surface, and by the finish of the swim reached about 31 °C.
"Such cold muscles slowly become less effective - by the finish of the swims he is unable to fully extend his elbow and can't close his fingers.
"Remarkably, while in the water, Lewis is able to maintain the temperature in his brain and around his heart and lungs above 36 °C. But when he stops, his temperature drops by 1 to 2 °C within 15 minutes.
"Below 33 °C he would lose consciousness."
As Pugh turned for the final time at the 750m mark, his body and brain numbing, Noakes began to count down the last 250m, 1m at a time.
"There was no way I was going to allow him to stop once he was into the last 250m.
"I had watched him swim for more than 110 minutes in ice-cold water at both ends of the Earth and for every second of those swims my heart was in my throat!"
At the 1km mark video footage shows Pugh being pulled from the sea, barely able to talk except to exhort his helpers to get his goggles off. The only word on his lips is the single expletive he keeps repeating.
"He's remarkable," Noakes repeats. "He swims with a skin temperature of 3 to 5 °C which would incapacitate all the rest of us. But he has conditioned his brain to ignore the information telling him how cold the water is and that he should immediately get out.
"Then Pugh is able to isolate the temperature at his core while allowing his arms and legs to become extremely cold. Yet he's still able to generate work with his arms even as they begin to freeze.
"The complete physiology to explain how this is all possible is not known."
They've coined the term anticipatory thermogenesis to describe how Pugh raises his core body temperature by up to 1.4 °C before he swims.
But it's not about swimming. Pugh's on a mission.
He's swum at climatic hotspots all over the world: the Maldives, Australia, the North Atlantic.
The Arctic ice has shrunk by 23%, a harbinger of massive changes in the environment.
"Through my swims I have a unique perspective on climate change," Pugh explained. "I'm determined to do my bit to raise awareness about the fragility of our environment.
"I want to grab the lapels of the world's leaders and show them what's happening here.
"If we lose the Arctic to oil exploration and wholesale navigation, we will have lost the world."
---
This work is licensed under a Creative Commons Attribution-NoDerivatives 4.0 International License.
Please view the republishing articles page for more information.
---