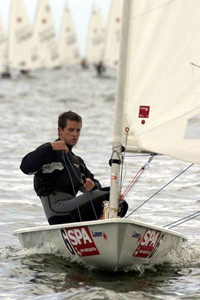 Gareth Blanckenberg's favourite Olympics moment was watching landlubber Josiah Thugwane win the marathon in Atlanta in 1996. It says a lot about the sailor's all-round abilities.
When he's not hurtling into the teeth of the Southeaster in False Bay, the gold medallist in the laser class at this year's All Africa Games in Algiers and ninth place winner at the Sydney Olympics, is likely to be on a bike, in a surfski or pounding the road.
But sailing is his passion. Blanckenberg, 27, started as a fresh-faced 10-year old around the Marina da Gama waterways, racking up some junior titles. He enrolled at UCT in 1998 but put everything on hold after just two months. The Youth World Championships were being held in Simonstown. His star was rising. Studies could wait.
Based overseas for the next few years, Blackenberg followed the European and Australian single-handed sailing circuits. In 2000 he donned green and gold to clock up ninth place at the Sydney Olympics, the youngest in the South African team.
In 2005 he returned to UCT for a business science degree, which he hopes to complete next year.
"It was something I really wanted to do."
Sailing in UCT colours, Blackenberg was part of the squad that won the South African Students Sports Union sailing games, and he co-skippered the winning boat at the Lipton Challenge Cup.
At the recent Sports Awards Dinner he took both the Jamison Cup as UCT Sportsperson of the Year and the Landstem Trophy for Performance of the Year.
With some local accolades under his harness, he's looking ahead to the World Championships in Australia in February. And there's Beijing in August.
Sailing is in his blood. His dad, Danny, owns a 40-ft yacht and Blanckenberg is hoping to write his skipper's ticket.
"But there are so many things you have to know!" he laments.
Difficult moment out on the sea? None that stand out. And he's not an adrenalin junkie.
"Sailing resembles life. It's tricky. You have to take care."
---
This work is licensed under a Creative Commons Attribution-NoDerivatives 4.0 International License.
Please view the republishing articles page for more information.
---