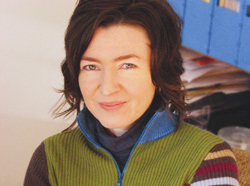 Concerned: Christi van der Westhuizen has written a book about continuing white privelege.
Award-winning journalist Christi van der Westhuizen has launched a book that may set tongues wagging.
Titled White Power and the Rise and the Fall of the National Party, the book criticises both the current and previous governments for South Africa's status as the second most unequal country in the world after Brazil.
"There is no excuse for it."
Van der Westhuizen, a doctoral student in sociology at UCT, said it seems white people are in denial about their role in maintaining apartheid.
"The question is 'how much have they ploughed back?'"
She said while the NP has fallen, white power continues, albeit in subtler ways.
Van der Westhuizen added that some white people say they have had enough of apologising.
"The fact is white people should face up to their role in continuing the racialised socio-economic inequality, and actively devise ways to change this."
Van der Westhuizen said the ANC's neo-liberal economic policies have helped white people to entrench their privilege.
---
This work is licensed under a Creative Commons Attribution-NoDerivatives 4.0 International License.
Please view the republishing articles page for more information.
---