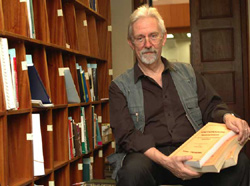 By the book: Dr Colin Darch.
When Dr Colin Darch talks of his travels into Africa in search of books for the African Studies Library, two images stand out.
One is of a Michelin Man, his waistcoat stuffed with wads of rumpled local currency - exchanged from US dollar bills - for his purchases. The other is of a reflective man sifting through obscure or old and dusty wares for rare treasure.
These book-buying forays are one of the pleasures of his job. He loves books and he loves Africa and has a wide and useful network of friends and former colleagues on the continent. It makes hunting and procurement that much easier.
Darch has done three trips. His 2002 sortie took him to Lusaka, Blantyre, Zomba, Harare and Maputo. In 2003 the search went to Accra, Lagos, Ibadan and Port Harcourt. And last year he visited Kigali, Kampala, Nairobi, Bagamoyo and Dar es Salaam.
He's due for another trip and fancies Angola.
But it's hard to get a visa, says the senior information specialist.
His reports read like travelogues. The trips are not leisurely rambles through African bookstores, universities and libraries. There's quite a bit of preparation required in procuring title lists from publishers in each country.
And it's tiring work. Each purchase requires its own paperwork, notes and descriptions.
But it's the unexpected find that thrills him. Each trip yields something rare and interesting - beyond scholarly monographs or research reports.
In Rwanda he was able to complete a rare, three-volume dictionary in Kinyarwanda and French, with examples of usage taken from Rwandan oral poetry.
These are things you can't order by post. Each trip yields between 400 and 600 new items for the African Studies Library.
"To acquire materials you need lots of time, patience, politeness – and often multiple visits."
And then the books have to be sent home with couriers DHL. Remarkably, they have never lost a single consignment.
Darch has had some adventures and unlikely experiences. He once booked into the Speke hotel in the middle of Kampala. But library executive director Joan Rapp found it was frequented by ladies of the night and known for robberies in the rooms.
"Protecting first the university's cash and (a long way second) my virtue, she changed the booking to a respectable Italian guest house in the suburban hills."
Once, running short of money to pay for some purchases and unable to exchange money after hours, Darch found himself in a black market exchange with a hotel waiter between toilet cubicles.
And some countries offer a less relaxing shopping experience.
"Nigeria makes some people nervous," Darch said. "Knowing someone there was very useful."
---
This work is licensed under a Creative Commons Attribution-NoDerivatives 4.0 International License.
Please view the republishing articles page for more information.
---