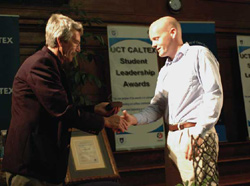 Out there: Fraser MacDonald receives the Most Outstanding Leader in Sports award from John Donald, manager of Sports and Recreation.
Fraser MacDonald clinched the Most Outstanding Student Leader in Sport title at the 2007 UCT Caltex Student Leadership Awards. We asked what makes him tick.
What are you studying?
BCom honours in financial analysis and portfolio management.
Sport?
I'm a member of the Mountain & Ski Club.
Best sportsperson?
Steven Bradbury, Australian short track speed skater and unlikely gold medal win in the men's 1 000m in the 2002 Winter Olympic Games.
Best quality?
Tenacity.
What skills development did you initiate at the UCT Sports Club?
Sponsorship and management workshops.
What is your role on the South African Students Sports Council?
I was the treasurer in 2006 and chairperson in 2007
Your achievements?
Two things stick out: forming a closer - and even amicable - working relationship with the SRC, something that was chilly, at best, in the past. I also rewrote the SASSU-UCT constitution and renamed it the Student Sports Union. I introduced four new portfolios: publicity officer, residence and intramural sports, events co-ordinator and webmaster, to ensure that future SSU committees have a good website and publicity, well organised events and that they cover the concerns of residence/intramural sportspeple at UCT. To be honest, it was a group effort from the SASSU-UCT (now SSU) committee and SRC representatives.
Your best sporting moment?
Every time I'm on Waaihoek in the Hex River mountains.
---
This work is licensed under a Creative Commons Attribution-NoDerivatives 4.0 International License.
Please view the republishing articles page for more information.
---