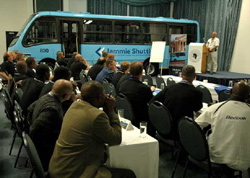 Unique: Properties & Services traffic manager, Roland September delivered a presentation on the Jammie Shuttle service at the Campus Protection Society of Southern Africa (CAMPROSA) Conference, which was hosted this year by UCT at Club Mykonos in Langebaan.
Campus security personel from all over Southern Africa networked and exchanged ideas at the annual CAMPROSA conference.
The Jammie Shuttle was one of the stars of this year's annual Campus Protection Society of Southern Africa (CAMPROSA) Conference, which was hosted by UCT at Club Mykonos in Langebaan from 9 to 11 September.
Because no other campus in Southern Africa has a service like it, delegates took a keen interest in the presentation by Properties & Services traffic manager, Roland September, who spoke about the Shuttle and its effect on safety and security, as well as its role in alleviating the increasing parking problem on campus. Delegates from 17 campuses enquired about the Shuttles, with a view to implementing a similar service themselves.
The conference, which was opened by Deputy Vice-Chancellor and Vice-Principal, Professor Martin West, featured talks by experts from a wide variety of fields. Among the speakers was Helmoed Heitman, the Southern African correspondent for Jane's Defence Weekly, who spoke on the spread of terrorism in Southern Africa, and Steven Powell, managing director of Edward Nathan Sonnenbergs Forensics, who spoke on fraud and corruption investigation and prevention.
Ray Thrower, president of the US-based international organisation, the International Association of Campus Law Enforcement Administrators (IACLEA) - of which CAMPROSA is an affiliate - delivered a presentation on dealing with on-campus emergencies, which could include anything from a hostage situation to a natural disaster.
"A disaster structure plan for every possible emergency needs to be in place," explains Properties & Services risk services manager, John Tunstall. "For example, if there's a fire on campus, we need to know exactly who does what, and where to take the affected students. There has to be a plan in place for every instance."
Despite its name, the conference is not just about security. Risk management is a vital component of campus safety, so areas covered included access control and crime prevention and investigation. "When people think of safety and security, they just imagine a uniformed guard on patrol," quips Tunstall. "But it's so much more than that."
As the CAMPROSA conference is attended by representatives from almost every campus in Southern Africa, it serves as an effective platform for networking and finding solutions to campus security issues.
---
This work is licensed under a Creative Commons Attribution-NoDerivatives 4.0 International License.
Please view the republishing articles page for more information.
---