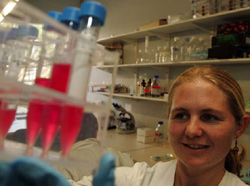 Claire Hoving, of the Division of Immunology, one of the scientists whose work will soon form part of the Cape Town/UCT component of the International Centre for Genetic Engineering and Biotechnology (ICGEB), opened on 10 September 2007. Picture: Roger Sedres.
It's been an eventful week at the IIDMM, what with President Thabo Mbeki dropping in to open the Cape Town Component of the International Centre for Genetic Engineering and Biotechnology (ICGEB), and then a group of top scientists gathering for the centre's inaugural symposium.
On 10 September, Mbeki officially opened - to much fanfare - the third component of the ICGEB, which will be based in UCT's Faculty of Health Science.
Joining its sister components in Trieste, Italy, and New Delhi, India, the Cape Town Component will be part of one of the most powerful international facilities for scientific research and training in bioscience. The ICGEB is an autonomous organization operating within the United Nations framework and the research programmes at the three Components focus on the needs of the developing world.
"We are also confident that significant scientific advances will indeed be made in the fight against malaria, tuberculosis, pneumonia, HIV and AIDS and other major diseases that, most unfortunately, receive too little public attention," said Mbeki at the launch.
But the UCT centre will cast its net wider than just infectious diseases.
"In 15 to 20 years, non-communicable diseases such as obesity, diabetes and cardiovascular diseases are all going to be major diseases on the African continent," said Professor Iqbal Parker, director designate of the ICGEB Cape Town Component and programme leader of the centre's work on cancer. "If we don't start preparing for these now, we will again find ourselves unprepared as we were with HIV/AIDS."
The South African government, through the Department of Science and Technology, is contributing R40-million during the next three years towards the start-up costs for the Cape Town Component. These funds are sufficient to establish an initial three research groups, which will target infectious and non-communicable diseases, as well as drug development. The centre aims to set up a further four research groups by 2010.
The symposium on 11 September brought together researchers from the two ICGEB centres in New Dehli and Trieste, as well as UCT scientists, to discuss research developments in genetics, chronic diseases, immunology, infectious diseases, and plant biotechnology.
"We came to discuss here research that can be developed at the ICGEB in Cape Town," said Professor Peter Schwartz of the University of Pavia, Italy, who's presentation addressed the essential role of cardiovascular science in developing countries.
The symposium piqued the interest of many up-and-coming scientists.
"The attendance was good," said Parker. "The younger students found it especially interesting. Many wanted to know how they could get involved and what opportunities exist."
---
This work is licensed under a Creative Commons Attribution-NoDerivatives 4.0 International License.
Please view the republishing articles page for more information.
---