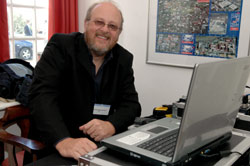 Know how: 'It's not if climate change is happening, it's what we do about it.' - Professor Bruce Hewitson of the Climate Systems Analysis Group.
Environmentally, Africa is one of the world's last clean canvasses but will be one of the regions hardest hit by climate change, said IBM Executive Vice-President of Innovation and Technology Nick D'Onofrio.
This was at the launch of a collaborative climate modelling project, AfricanClimate@home, in which UCT's Climate Systems Analysis Group (CSAG) will team up with IBM's World Community Grid.
Equivalent to the fifth largest super computer in the world, World Community Grid is an effort to create the largest public computing grid to tackle scientific research projects that benefit humanity. Using donated 'idle computational power' from computers around the world, the grid enables researchers to analyse data on big projects like the Human Genome Project, cancer research and studies to protect the world's food and water supplies.
The AfricanClimate@home project will use the grid's considerable resources to test regional climate models over South Africa, improving these as tools for predicting future events and climate change. The project will help reduce the uncertainty of climate predictions over threatened regions and will allow clearer statements of change.
'This project will allow us to say X is more likely than Y, so we have a greater confidence,' CSAG's Professor Bruce Hewitson said.
Warming temperatures have already affected some Western Cape apple orchards, causing them to shift production.
'Two years ago we had back-to-back droughts. It's not unprecedented. But what if there'd been a third? How would the City have delivered water to 3.5 million people?'
---
This work is licensed under a Creative Commons Attribution-NoDerivatives 4.0 International License.
Please view the republishing articles page for more information.
---