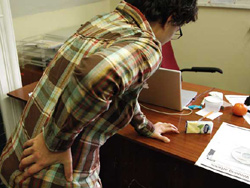 The Sports Science Institute has called on people with chronic lower back pain to volunteer for a study to assess the automatic recruitment function of some of the abdominal wall muscles.
The study is aimed at both males and females between the ages of 18 and 55 with chronic lower back pain for more than 12-weeks or who have had no history of lower back pain.
Co-ordinator Desirée Maartens said participants will be required to complete one testing session lasting 45 minutes to an hour at the institute's Medical Clinic in Newlands.
"Testing is a non-invasive procedure which assesses the lateral abdominal muscle wall with an ultrasound machine," she explains. In addition, the participants may be involved in recreational activity of two to three sessions per week, sessions consisting of 45 minutes to an hour.
Maartens said people taking part in the study would gain a better anatomical knowledge of their abdominal muscles and their respective role in stabilisation. They would also be assisting in the development of a clinical test that will help clinicians to better assess patients with low back pain.
People with chronic medication for pain, those who compete in competitive sport and those who have been diagnosed with neural conditions may not participate.
Nor may people who have had lower back surgery, women who have been pregnant within two years prior to the study, and those who have had rehabilitation for lower back pain in the past six months.
The deadline is 30 September and the study could take between six and eight weeks.
Please direct inquires to Maartens at 021 650 4569 or 082 748 9357, email HLLDES001@uct.ac.za.
---
This work is licensed under a Creative Commons Attribution-NoDerivatives 4.0 International License.
Please view the republishing articles page for more information.
---