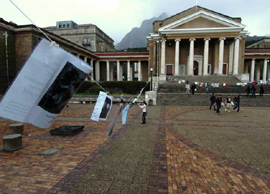 Dirty laundry: An unusual exhibition drawing attention to domestic violence and rape was to be found on Jammie Plaza last week.
These were washing lines with a difference on the Jammie Plaza last week.
The intention was not to dry the wet clothes hanging there but to represent "hanging out society's dirty laundry". In this instance, the laundry is the all-too prevalent domestic violence and rape.
Now Stand Up, a social awareness and activist society, in conjunction with the UCT branch of the Treatment Action Campaign, Amnesty International and the SRC, is asking for solutions.
They have hung the clothes to encourage students to contribute by hanging up comments about why these crimes are so prevalent and what should be done to curb them.
The washing lines are part of the organisations' weeklong gender-violence awareness campaign that began on 6 August.
Other events included an interactive self-defence demonstration on 7 August at the Jammie Plaza during meridian; the screening of DVD about rape survivors in the Beattie Building; and a gingerbread bake sale on 10 August in the Jammie Plaza, all in aid of the Rape Crisis Centre.
"We encourage all to come hang up and discuss more of society's gender-related dirty laundry," said a statement issued by Stand Up.
---
This work is licensed under a Creative Commons Attribution-NoDerivatives 4.0 International License.
Please view the republishing articles page for more information.
---