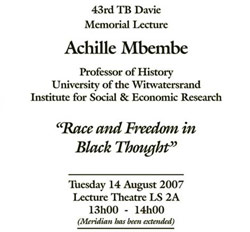 African political and history scholar Professor Achille Mbembe, a senior researcher at the Wits Institute of Social and Economic Research (WISER), University of the Witwatersrand, will deliver the 43rd TB Davie Memorial Lecture on 14 August.
This year's guest speaker is no stranger to UCT. In May this year Mbembe addressed a university audience at a meeting on race and transformation, part of the university's new Respect campaign. The campaign intends to boost the culture of courtesy and mutual respect critical to transformation at the institution.
Born in the Cameroon, the academic and author holds a PhD in history from the Sorbonne (1989) and a DEA (diplôme d'etudes approfondies) in political science from the Institut d'Etudes Politiques in Paris.
The early years of Mbembe's academic career found him in the US, first as assistant professor of history at Columbia University, New York, from 1988 to 1991, then as senior research fellow at the Brookings Institute in Washington DC from 1991 to 1992, and lastly as associate professor of history at the University of Pennsylvania from 1992 to 1996.
In 1996 Mbembe returned to Africa as executive director of the Council for the Development of Social Science Research in Africa (CODESRIA) in Dakar, Senegal, a position he held until 2000.
He has written extensively on African history and politics, including a book, La naissance du maquis dans le Sud-Cameroun (Paris, Karthala, 1996), on the decolonisation process in that country, one that has had a profound impact on the country's development since then.
Unlike most French territories in Africa, Mbembe wrote, decolonisation in the Cameroon was marked by extreme violence and followed by one of the most repressive postcolonial African regimes.
Mbembe's work, On the Postcolony, was published in Paris in 2000. The English translation was published by the University of California Press, Berkeley, in 2001.
---
This work is licensed under a Creative Commons Attribution-NoDerivatives 4.0 International License.
Please view the republishing articles page for more information.
---