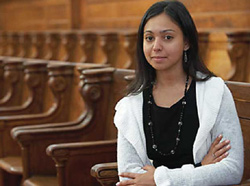 Four students graduate with PhDs from the Centre Film and Media Studies this year: Adrian Hadland, Meg Rickards, Ian-Malcolm Rijsdijk and Mary Watson-Seoighe (in picture).
Hadland, a distinguished international journalist, analysed South Africa's media according to a new media theory. His thesis, The South Africa Print Media, 1994-2004: An application and critique of comparative media systems theory, applies the theory of Dan Hallin and Paolo Mancini, which examines the inter-relationship between a country's media and political system. Hadland also evaluates the theory itself, and proposes modifications based on the South African experience.
Rickards' thesis, Screening Interiority: Dream, the unconscious, emotion and imagination in cinematic language, focuses on the ways in which film is able to represent the interiority of character. It explores the methods filmmakers can use to externalise dreams, the unconscious, emotional journeys and the realm of the imagination through cinematic language. Screening Interiority bridges the divide between theory and practice and contributes to the fields of film studies as well as film production.
In Seeking the Other Shore: Myth and history in the films of Terrence Malick, Rijsdijk examines the work of this enigmatic independent filmmaker, arguing that Malick's films are both profoundly historical and deliberately mythic. Rijsdijk's wide-ranging thesis absorbs literature, political, social, art and film history as well as the skills of film analysis.
Watson-Seoighe, winner of the Caine Prize for African Writing in 2006, examines how film conveys experiences that resist representation through closed linear narratives in her thesis The Cutting Edge: Deviant realisms and cinematic disruption. The study focuses on the disrupted editing of surrealist film and explores how, with the injection of fantasy, disruption begins to offer new possibilities for the articulation of subjective or traumatic social experiences.
---
This work is licensed under a Creative Commons Attribution-NoDerivatives 4.0 International License.
Please view the republishing articles page for more information.
---