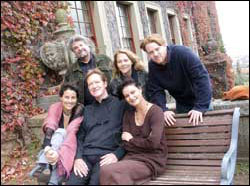 Five fine writers - back from left: Prof Etienne van Heerden with Willemien Brümmer and Michael Rands. Front from left: Ingrid Wolfaardt, Quintus van der Merwe and Nanette van Rooyen.
Professor Etienne van Heerden of the Afrikaans & Netherlandic Studies section and acting director of the Centre for Creative Writing, has good reason to be over the moon. The dissertations of five of his master's students have been accepted for publication.
Over the next two publishing seasons Tafelberg Publishers and Human & Rousseau will bring out one short story collection and four novels by Willemien Brümmer, Michael Rands, Quintus van der Merwe, Nanette van Rooyen and Ingrid Wolfaardt. This is proof again that the Centre for Creative Writing is fast becoming a hotbed of literary talent in the country.
Die dag toe ek my hare losgemaak het, a compilation of short stories by Willemien Brümmer, is about a young woman coming of age in Cape Town. Brümmer, previously a journalist at Die Burger, is currently the specialist journalist at Insig.
Praise Routine Number Four is a novel by Michael Rands, a stand-up comedian and the son of actor Jonathan Rands of Jock of the Bushveld movie fame. Rands' book looks at the complex political situation of South Africa's youth.
Quintus van der Merwe, an ex-diplomat currently with the Western Cape language unit, makes his debut with Die blou van onse hemel, a diplomatic thriller set in North Africa and Europe.
Nanette van Rooyen's novel, Chinchilla, offers a peek into the lives of animals and is set in her Karoo hometown, Sutherland.
Heartfruit is a tale about love and politics by Ingrid Wolfaardt. It explores relationships within the fruit farming community in the Boland - a topic she, as director of an export fruit company, has first-hand knowledge of.
Over the past few years all the writers have spent many hours with Van Heerden in what he calls the "unpredictable space of creative supervision".
Van Heerden, a celebrated novelist in his own right and editor of the www.LitNet.co.za, says that each talent brought something to the table. As their supervisor, he said, "your task is to let their voices free".
"And what a ride it's been, I've learned so much from them."
---
This work is licensed under a Creative Commons Attribution-NoDerivatives 4.0 International License.
Please view the republishing articles page for more information.
---