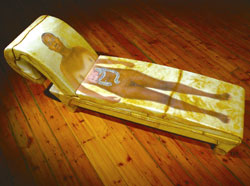 Ambiguous identity: Democracy of the Stomach, Prof Gavin Younge's 2006 DVD installation/projection.
UCT's Professor Gavin Younge has opened a new exhibition in Paris. The 17 sculptures and installations are a reflection on the rampant violence in South Africa
Prosthesis, Professor Gavin Younge's exhibition of 17 sculptures and installations, opened at Le Cloître des Billettes in Paris on 10 May.
On until June, it showcases his art works from the decade 1997 to 2007, and is presented by Nathalie Codjia and Anne-Sandra Keff-Lobisommer of the La Noire Galerie.
Younge, of UCT's School of Fine Art, says the exhibition had its genesis in 2000 on the Champs Elysées when he exhibited Workmen's Compensation II, a laager of ten handmade wheelbarrows, each carrying aspects of migrant labour life.
"The wheelbarrows contain articles used by migrant labourers in South Africa. Each wheelbarrow is covered by a sheet of bullet-proof glass and contains such articles as enamel mugs, African herbal remedies, and the notorious pass books that each black person was obliged to carry at all times under the apartheid government."
His work for Prosthesis draws on his experiences of a society characterised and moulded by violence.
In their preface to the catalogue Codjia and Keff-Lobisommer wrote: " – Gavin Younge denounces that violence and analyses the social, political and cultural problems that it generates. He presents himself as both an observer and a participant in the contemporary history of his country, South Africa. The recurring use of vellum, a natural organic material, to wrap his sculptures, suggests the notion of stuffing rather than covering.
"This process creates a certain tension that makes it impossible to preserve the forms. This skin, which appears as a protection, substitutes itself for the memory-rich objects that it replaces - giving them life, and regenerating history-laden sediments. In this way the artist also highlights a problem that his continent suffers from, the problem of fading memory."
---
This work is licensed under a Creative Commons Attribution-NoDerivatives 4.0 International License.
Please view the republishing articles page for more information.
---