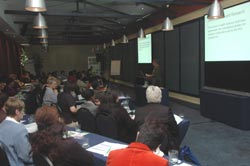 UCT and the University of Stellenbosch hosted a conference of the Forum of University Nursing Departments in South Africa (FUNDISA) on 11-12 May, a meeting that drew delegates from 14 universities.
The theme of the conference was Collaboration, and speakers explored topics such as international collaboration in higher education, collaboration in research, collaboration in action and the challenges facing FUNDISA.
The conference dovetailed with the 70th anniversary of nursing education at UCT - UCT and the University of the Witwatersrand introduced the Diploma in Nursing (Education) to registered nurses in 1937. While UCT scrapped its undergraduate programme a few years ago, its Division of Nursing & Midwifery continues to offer a postgraduate diploma and nursing degrees at master's and doctoral level.
The second day of the FUNDISA conference coincided with International Nurses Day, which is spearheaded by the International Council of Nurses and celebrated around the world every May 12, the anniversary of Florence Nightingale's birth. The theme this year was Positive Practice Environments: Quality workplaces = quality patient care.
'In many ways the conference was a watershed experience for delegates,' said Una Kyriacos, acting head of the Division of Nursing & Midwifery at UCT, 'reflecting on the history of FUNDISA and considering ways to restructure to meet the challenges facing university education for nurses in the future.'
---
This work is licensed under a Creative Commons Attribution-NoDerivatives 4.0 International License.
Please view the republishing articles page for more information.
---