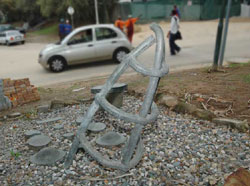 Honoured: The SS Mendi sculpture honours the corps who died in this tragedy.
Dust, bricks and workmen are a vivid sight at the Graça Machel Residence on the lower campus.
But just opposite, below the soccer field, lies a bronze sculpture recalling a tragedy and act of heroism that occurred many thousands of kilometres away - the story of the SS Mendi.
This was the site, some 90 years ago, where troops of the South African Native Labour Contingent were billeted before embarking on the ill-fated SS Mendi for France - the last consignment of 10 000 black South Africans who heeded the call to assist as labour battalions on the Western Front in World War 1.
In thick fog, early on 21 February 1917, the Mendi was rammed by another vessel, the SS Darro, and 607 of the 805 troops on board were either crushed to death or drowned in the icy English Channel. Among the dead was the Reverend Isaac Wauchope, who exhorted the men to remain calm with the words: "You are going to die, but this is what you came to do. Let us die like warriors. We are the sons of Africa."
The sculpture, honouring Wauchope and the other victims, is the first of 10 Sunday Times Centenary Heritage memorials in Cape Town, a project to create public memorials that honour remarkable people and events that made news during the past century.
The artwork is the brainchild of Madi Phala, who depicts a mock ship's prow, cast in heavy metal, sinking into the ground as it did into the ocean. In front of it are helmets, hats and discs, symbolising the men, officers and crew of the SS Mendi.
"I wanted to make a piece that references every single one of the people that died on the SS Mendi," Phala, who was murdered outside his Langa home in March, was quoted as saying.
The memorial has the full backing of UCT, which said in a statement: "This type of living memorial fits in well with UCT as a heritage site, and we are proud to be associated with this initiative. It will be accessible to staff and students of UCT, as well as to members of the public."
Professor Sizwe Satyo, head of the Department of African Languages and Literatures, said the story of the SS Mendi has, in many ways, become part and parcel of UCT in terms of teaching and research.
This is proved by the amount of work done by UCT's historians and "oralists", says Satyo. "Oral" historians in the Department of African Languages and Literatures use izibongo (praise poetry) by such prominent iimbongi as SEK Mqhayi, in addition to written texts.
The Faculty of Humanities honoured the soldiers of the SS Mendi in 2002 by naming a computer room the uMendi Computer Laboratory.
---
This work is licensed under a Creative Commons Attribution-NoDerivatives 4.0 International License.
Please view the republishing articles page for more information.
---