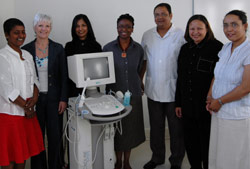 (left to right): Among those at the handover of an ultrasound machine to the Vanguard Student Learning Centre were Sharm Naidoo (Student Learning Centre facility manager), Janet Smit (Siemens), Sophia Nel (Siemens), Dr Sedi Namane (senior family physician), Professor Derek Hellenberg (HOD: family medicine), Assoc Prof Gonda Perez (deputy dean), Dr Liesl Diedericks (obstretics consultant).
The Vanguard Student Learning Centre in Bonteheuwel, linked to UCT's Faculty of Health Sciences, received an invaluable contribution from electrical giants Siemens on 20 April: an ultrasound machine valued at over R150 000.
Ultrasound machines are indispensable tools in the treatment of obstetric and gynaecological patients, as it is an effective and painless way to scan for abnormalities.
At the official launch, deputy dean, Associate Professor Gonda Perez, thanked Sophia Nel and Janet Smit from Siemens. 'In donating this ultrasound machine, you are contributing to the development of a skills base for this purpose, as students, registrars as well as staff at this centre will all benefit from learning how to apply this tool to their delivery of quality health care,' she said.
'The communities of Langa and Bonteheuwel will benefit by having access to this essential diagnostic tool, and their health is, after all, the goal which binds us all.'
---
This work is licensed under a Creative Commons Attribution-NoDerivatives 4.0 International License.
Please view the republishing articles page for more information.
---