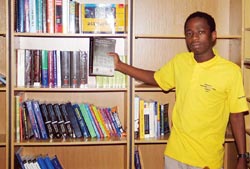 Mission accomplished: Phumlani Nkontwana in the newly-launched library in Forest Hill.
Forest Hill opens its own library.
When Phumlani Nkontwana was elected as the academic representative on the Forest Hill Residence house committee last year, he had to improve the student support system - but did not know how.
Complaints about ineffective tutors, and the realisation that his weekends would be taken up by fellow students needing his help, gave him the idea of starting a library in the residence. And it was mission accomplished when Forest Hill opened the library on Human Rights Day, 21 March.
The Durban-born business science student said he foresees that the facility will be a useful resource, especially as a meeting place. One of the problems in the residence, says Nkontwana, was that it's a mission to track down the tutors who, often, would not be in their rooms.
Nkontwana's task is to appoint and manage tutors, mentors and peer-helpers. To do this, he's developed what he terms a "slot system", where tutors have time slots to assist students in the library.
"Now they can't escape. They know they have slots to fill."
Nkontwana, who is also an academic and faculty representative co-ordinator on the Commerce Student Council, convinced the 11-member house committee to "constitutionalise" the library committee. This ensures that tutors are available and the library is clean.
The facility, which cost more than R14 000, holds academic books, magazines and past examination papers.
It's open between 19h00 and 24h00 on weekdays and from 11h00 until 24h00 on weekends. The material has been donated by, among others, students, the executive director of student affairs, Moonira Khan, and the UCT Libraries Acquisitions department.
Nkontwana is upbeat about the achievement.
"It was a mission to get this," he says. "I had to justify that this would work and I guess I won.
"It is a milestone."
---
This work is licensed under a Creative Commons Attribution-NoDerivatives 4.0 International License.
Please view the republishing articles page for more information.
---