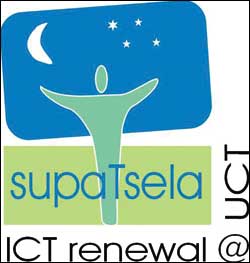 Introduction
The Electronic Directory Services (EDS) work stream of the supaTsela project has been responsible for providing an automated infrastructure for the provisioning of access to UCT's resources both physical (buildings) and logical (network, email, etc). As part of this infrastructure a UCT Role Model has been developed. This UCT Role Model defines the possible roles at UCT and the ICT resources to which a member of each role is entitled. The purpose of the role model is to provide a set of principles and a framework for the delivery of identity information to the various stakeholders and automated provisioning of access rights, where applicable. This UCT Role Model is "owned" by the registrar and has been discussed and approved by the Senate Executive Committee.
Note: The UCT Role Model is under continuous review and therefore will change from time to time.
There are three main role-categories at UCT (staff, students and third parties), which are defined below with a summary of the ICT and ICT-related access to which they are entitled.
What is your role at UCT?
Use the definitions below to help you decide where you fit in at UCT.
Staff: This role includes people in academic and PASS departments, who are employed on permanent and T-contracts, emeritus professors, emeritus associate professors, and those UCT staff members not paid by UCT (eg joint health science faculty staff, paid by NHLS or PGWC).
Student: This role includes people who are registered at UCT as undergraduate or postgraduate students or as postdoctoral fellows, and those who have applied to study at UCT.
Third party: This role includes people who work at UCT, but (with the exception of the first category in the list below) are neither UCT staff members nor enrolled students or applicants. Categories of third parties:
Working student (part-time, ad-hoc staff member, paid on claim)
Consultant (short-term, less than two weeks)
Contract staff/consultant (long-term)
Library user
Student auditor
Foreign medical elective
All Africa House resident
Residence guest (conference, short-term or vacation accommodation)
Member of Council (elected or appointed)
Employee of an organisation, which is in category:
Legally not part of UCT
Contractor providing services to UCT
Affiliated to, or partly owned by, UCT
Related to UCT
Tenant
What ICT and ICT-related access does this entitle you to apply for?
Staff: When individuals are employed at UCT, and once they are entered onto SAP HR, they are now automatically provided with a network and email account. They can then collect their identification (ID) card from Access Control, which provides access to their office building and UCT libraries as required. They are entitled to apply for a parking disc and access to additional office buildings and shared network drives, if required.
Student: When individuals are registered at UCT, and once they are entered onto PeopleSoft, they are automatically provided with a network and email account. Students are issued with a student card that allows them access to the UCT library. Depending on the courses they are registered for, they might also be given access to specific buildings and/or student labs. If they are not first-year students, they are entitled to apply for a student parking disc. Students staying in a UCT residence are entitled to apply for residence parking and/or access to residence student labs.
Third party: There is a wide variety of third parties with different access requirements. Please refer to the table in the third-party role model on the ICTS website (see hyperlink below), for details on the different types of access to which third parties are entitled.
For a more detailed outline of the role model for staff, students and third parties, see:
---
This work is licensed under a Creative Commons Attribution-NoDerivatives 4.0 International License.
Please view the republishing articles page for more information.
---