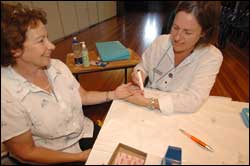 Getting tested: Bridget Adams of Student Wellness, is tested by Denise Cooper, a registered nurse on duty at UCT's HIV voluntary counselling and testing drive.
A group of 208 students and staff were tested within the first few hours of the first day of UCT's free HIV voluntary counselling and testing (VCT) campaign.
Student Wellness Service, in collaboration with the Human Resources Management Department and HIV/AIDS Co-ordination - UCT (HAICU), organised the campaign as a follow-up to a similar event late last year. The goal is to get as many people as possible tested, says Bridget Adams, a registered nurse working for Student Wellness.
The service is for everyone, contract employees too.
"We would never turn anyone away," says Adams.
In each individual session, staff and students received pre-test counselling by trained counsellors and a test administered by nurses (a RAPID finger-prick test involving a prick to the finger and a single drop of blood taken). That's followed by a 15-minute wait for the results and post-test counselling by medical practitioners.
Overall, the campaign was a resounding success, says Dr Corinne Landon, head of Student Health Services. During the four-day campaign, 2 530 RAPID tests were performed.
Only 58 of these were for staff, though.
"The staff turnout was rather disappointing," said Landon. Human Resources will look into this over the next few months.
Another VCT campaign is planned for August, while Student Wellness sniffs around for an upper campus venue that will house a six-month trial VCT service. But, as Landon says, this will not replace the Mowbray-based VCT service at Student Health.
---
This work is licensed under a Creative Commons Attribution-NoDerivatives 4.0 International License.
Please view the republishing articles page for more information.
---