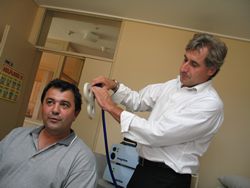 Dr Neil Horn demonstrates on Dr Cobus McCallaghan, both in the Dept of Psychiatry and Mental Health, how the TMS machine will be used.
The Dept of Psychiatry and Mental Health at UCT now owns the next generation in depression-beating equipment, thanks to a generous donation.
Friends of Valkenberg, which works hard to advocate for patients with mental illness, handed a new Transcranial Magnetic Stimulation (TMS) machine, a Magstim Rapid2, to the UCT Department on 26 January. Friends of Valkenberg bought the TMS machine with funds raised from the Anglo Chairman's Fund and the DG Murray Trust.
This machine will be used primarily with patients attending Valkenberg Hospital for clinical trials of the treatment of depression and anxiety, said Dr Neil Horn, lecturer in the Dept of Psychiatry and Mental Health.
"We previously had access to an old machine designed for basic research, but this state-of-the-art machine will allow clinical use for the first time in South Africa," says Prof Dan Stein, head of the Dept of Psychiatry and Mental Health.
The machine generates a powerful magnetic field in a paddle, which alters electrical activity when placed near key areas of the brain, and early studies show this relieves depression in some patients, explained Horn.
"It's hoped that TMS could be an alternative to electroconvulsive therapy (ECT) for some patients," said Horn. "Unlike ECT, a treatment for severe or treatment-resistant depression, with TMS there is no need for seizures and anaesthesia."
---
This work is licensed under a Creative Commons Attribution-NoDerivatives 4.0 International License.
Please view the republishing articles page for more information.
---