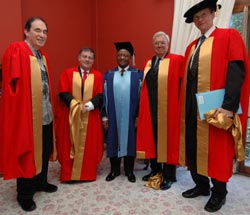 It's a rarity, but all four honorary doctorates that UCT presents this week will go to leading lights from the same discipline.
The Faculty of Law will award honorary Doctors of Law [LLD, Honoris causa) to Justice Albie Sachs, Justice Dennis Davis, Sir Bob Hepple and Professor Reinhard Zimmermann at its December 13 graduation ceremony.
All are distinguished lawyers, and have used the law to emphasise its intimate relationship with justice, and its capacity to bring people together through critical engagement with each other, says Professor Hugh Corder, dean of law.
"Two of the honorary graduands, Justice Albie Sachs and Judge Dennis Davis, are alumni of the faculty, and very much household names in South Africa."
Sachs, a judge of the Constitutional Court, played a leading role in the constitutional negotiations that led to the birth of a democratic South Africa in the early 1990s. He is renowned as a committed, creative, courageous and outspoken man of the law and the arts, as well as for being one of the first people appointed to the Constitutional Court in 1994.
Lecturer, researcher and commentator, Davis, a judge, of the Cape High Court, writes prolifically across a broad spectrum of the law. As a judge, he has delivered a number of ground-breaking judgements, while at the same time continuing to teach at UCT, always after hours and without material reward. He is probably best known, however, for his pioneering use of television to bring the critical issues of law and justice into homes across the country.
Hepple, emeritus professor at the University of Cambridge, went to the Bar after his law studies at Wits University, and took cases that placed him firmly on the left of the political spectrum. He went into exile in 1963 after the infamous Rivonia Trial - he was one of those arrested - and followed an academic career in England. Since his unbanning in 1990, Hepple has had strong links with the UCT faculty.
"His contributions have enriched the study of labour law, not only at UCT, but more broadly in South Africa," says Corder.
In 1981, Zimmermann was appointed at the remarkably young age of 29 to succeed the legendary Professors Ben Beinart and Johannes Christiaan de Wet as the WP Schreiner Professor of Roman and Comparative Law at UCT.
He left for Regensburg in 1988, but did not lose his interest in South African law, and has played host to generations of young graduates from here. He has also pursued his academic passion, the harmonisation of the two great legal systems of the developed world - the civil law and the common law traditions.
The LLD is also, in part, in recognition of his distinguished published work, notably his indispensable 1990 volume, The Law of Obligations: Roman Foundations of the Civilian Tradition.
Zimmermann currently holds the Chair of Private Law, Roman Law and Comparative Legal History at the Max Planck Institute for Foreign Private and Private International Law in Germany.
"It is entirely fitting that UCT should honour these four lawyers who have in common not only their status at some time as an honorary professor of the Faculty of Law, but also distinguished careers in the pursuit of justice through the law," says Corder.
---
This work is licensed under a Creative Commons Attribution-NoDerivatives 4.0 International License.
Please view the republishing articles page for more information.
---