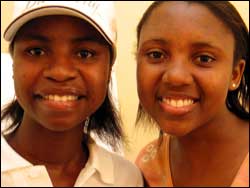 High-flyers: Mpho Mutswari and Lethabo Baloyi are two of the success stories of UCT's ASPECT programme.
Lethabo Baloyi and Mpho Mutswari, BSc mechanical engineering students, are two graduates from the Academic Support Programme for Engineering (ASPECT) who have completed the five-year programme in four years.
ASPECT, founded in 1988, is a bridging programme that assists students who matriculate from school systems that have not adequately prepared them for tertiary study. Baloyi and Mutswari became Flyers - as ASPECT names them - just after beginning with their studies, taking on the full workload of the main stream plus the extra ASPECT tutorials and classes.
Baloyi initially planned to do the four-year programme, but her sponsor registered her for ASPECT. She coped well with the work, though, became a Flyer shortly after, and finished according to her first plan.
Mutswari entered the main engineering stream from the start, but struggled and transferred to ASPECT. Like Baloyi, Mutswari felt that the tutorials on maths and physics really made all the difference.
Baloyi plans to use her degree to change society and hopes to create opportunities for young girls.
"I would like to be a role model for them to prove that a woman can be a mechanical engineer," she says. She is going to work for sponsor Unilever in Johannesburg next year.
Mutswari chose mechanical engineering because she was interested in how mechanical things worked. She was offered a job at sponsor Eskom while still in her first year, provided that she complete her BSc in time, and takes up the post in 2007.
Another success story is that of Nthabiseng Mphela, who completes a BSc in chemical engineering and graduates with honours. Mphela stayed with ASPECT for the full five years, because, although she was coping, she wanted to make sure that she was doing the best she could, she says. She received 12 firsts and no failures on her academic record.
After graduation, Mphela will do her master's degree in mineral processing at the University of Pretoria. Her sponsor is MINTEK mining and metallurgy company in Randburg.
---
This work is licensed under a Creative Commons Attribution-NoDerivatives 4.0 International License.
Please view the republishing articles page for more information.
---