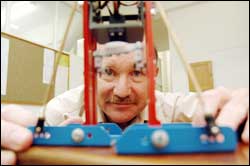 Honoured: Two more accolades add to Prof Kit Vaughan's CV. Vaughan is the Hyman Goldberg Professor of Biological Engineering and the director of the MRC/UCT Medical Image Research Unit.
Recently back from a six-month sabbatical devoted to a book on UCT Nobel laureate Allan MacLeod Cormack, Professor Kit Vaughan has added two more accolades to his raft of professional and academic recognitions.
While in Seoul in South Korea in September, Vaughan was inducted as a Fellow of the International Academy for Medical and Biological Engineering, endorsing his "outstanding contributions to the field of medical and biological engineering".
Vaughan joins 70 other Fellows from around the world, but is the first Fellow from Africa and one of only four from the Southern Hemisphere.
A fortnight later, he was inducted as a Fellow of the South African Academy of Engineering (SAAE) at a ceremony in Cape Town, the first biomedical engineer to be elected to the approximately 150-strong body. (When Vaughan was awarded an A-rating by the National Research Foundation in 2004, he was the first biomedical engineer to be ranked among the country's top researchers.) Vaughan joins colleagues such as Professors Cyril O'Connor, Daya Reddy, Sue Harrison, George Ekama, Heinz Rüther and Mark Alexander.
A Fellow of SAAE is a professional engineer or person of equivalent academic qualification and considered a role model in their profession.
Vaughan says the award brings important recognition to the field of biomedical engineering. Though a well-represented discipline globally, the field is relatively small in South Africa.
"But it does show that we can compete with the best in the world in terms of scholarship," Vaughan added. "In South Africa there are encouraging signs with the universities of Pretoria, Stellenbosch and Wits offering specialist biomedical engineering programmes."
Nonetheless, he believes there is work still to be done on mentoring and training researchers, in collaboration with other institutions, to deepen levels of local scholarship around the country.
Right now, though, the book on Cormack is pressing: it's due at the publisher next month.
A UCT alumnus, Cormack is one of Vaughan's inspirations. It was Cormack's computer-assisted tomography scanner that won him and British engineer Godfrey Newbold Hounsfield the 1979 Nobel Prize in Physiology or Medicine.
---
This work is licensed under a Creative Commons Attribution-NoDerivatives 4.0 International License.
Please view the republishing articles page for more information.
---