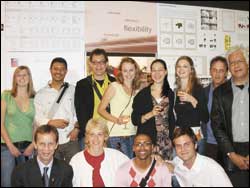 Crossing canals: UCT students, staff and guests at the student exhibition in Venice were, (From left, back) Belinda Tissink, Emil Sinclair, Professor Iain Low, Kate Broumels, Katherine Bleazard, Danielle Chaplin, Ernst Struwig (Iuav), Professor Lucien le Grange; and, (From left, front) Alwyn Figgins, consul-general to South Africa in Milan, Stella Papanicolaou, Ruan Mills and Tommy Trail.
Seven students of the School of Architecture, Planning and Geomatics recently travelled to Venice on an invitation from the Università Iuav di Venezi, the school of architecture there, which showcased work of students from Southern Africa.
The students took part in a "fringe" exhibition at the 10th Venice Architecture Biennale, held every second year. The biennale ran from October 9 to November 14.
This prestigious event is viewed by over 100 000 visitors and 3 000 accredited journalists from around the world, as well as, this year, South Africa's Consul General in Milan, Alwyn Figgins.
Students from the Universidade Eduardo Mondlane Maputo, the University of the Witwatersrand, the University of Pretoria and UCT attended at the event.
The title for the UCT students' exhibition, Inter(face) Southern Africa: Engaging our lived realities, responds to the theme of the biennale, which for the first time focused on the design of cities, their urban infrastructure and social dynamics. The student work explored, at differing scales, various urban issues presented by South Africa's Third World reality, from proposed new settlements to enquiries around issues of transport, from the accommodation of different modes of trade to addressing the housing crisis.
The occasion marked the beginning of a potential relationship of exchange between the two institutions. Interest in the exhibition has been expressed by, among others, the Royal Institute of Architects for their exhibition in London, and the TransCape Exhibition in Cape Town, both to be held next year.
The second-year BArch students involved in the preparation and installation of the exhibition were Katherine Bleazard, Kate Broumels, Danielle Chaplin, Ruan Mills, Emil Sinclair, Belinda Tissink and Thomas Trail.
Architects and lecturers behind the drive to get the Southern African student exhibition to Venice were Architetto Enrico Dodi of EDNET, Architetto Roberto Augustino, Professore Marcello Balbo of Architetto Giovanni Vio of Iuav, Glen Robinson of EDNET, UCT's Professor Lucien Le Grange and Professor Iain Low, as well as UCT lecturer Stella Papanicolaou, who co-ordinated the exhibition.
---
This work is licensed under a Creative Commons Attribution-NoDerivatives 4.0 International License.
Please view the republishing articles page for more information.
---