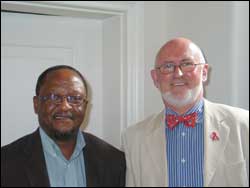 Adieu: VC and Principal Prof Njabulo S Ndebele bids farewell to the Dean of Commerce, Prof Doug Pitt, who retires at the end of October.
Professor Doug Pitt has been a large figure in the Faculty of Commerce, as unforgettable for his pragmatic leadership as he is for his collections of bowties and banjos.
When the dean retires at the end of the month, a chapter will close. Not that he's planning to actually retire. His to do list is extensive. There's the academic journal, Telecommunications Policy, that he edits 11 times a year, as well as his telecommunications policy research. Not long ago he co-authored a book, Chinese Telecommunications Policy, with Hong Kong University of Science and Technology Professor Xu Yan.
But for the first two months he'll follow the example of a retired American colleague who told Pitt: "I'm doing nothing - and I'm doing it real slow."
His sojourn in South Africa (he joined UCT from Strathclyde University in Scotland) has been "fabulous".
"It has been an absolute privilege, quite genuinely, to work in a changing, multi-cultural, dynamic environment."
The country is ripe with opportunity, he says, though he is concerned about the things that divide: poverty and crime, especially gratuitous violence attached to crime.
Taking the hot seat in the commerce faculty, Pitt found transformation was the word on everyone's lips.
"Transformation is serious business," he said. "With the changes in higher education, we can't afford to rest on our laurels. We still have a way to go and this is not the time for complacency."
While he says he's leaving unfinished business, he's satisfied that he's leaving a faculty in good hands, paying tribute to his "well-functioning" management team: deputy deans: Professors Tessa Minter and John Simpson and Dr Haroon Bhorat.
"It's also a faculty that is on the road to developing a sound research culture. It wasn't always there," he said, "but my successor, Professor Melvin Ayogu, is a man who knows the faculty well and is research-orientated."
Pitt is particularly proud of the achievements tallied by the Commerce Academic Development Programme to assist disadvantaged students and the good relationship he's enjoyed with students, especially the Commerce Students' Council.
With homes in the UK and in Franschhoek, Pitt says he will be enjoying commuting between the two hemispheres..
Challenges? A long-distance swimmer, he's keen to give the Robben Island stretch a go. With support, of course. Sharks have had some bad press in these parts recently.
He will also have more time to spend with 16-hands Bix, the thoroughbred former race horse he owns, stables and rides in Franschhoek, named after 1920s cornetist Bix Beiderbecke.
"I'm hoping to maintain a musical presence in South Africa and play in the UK. Dixieland jazz is in my blood."
There's also a "whole chunk" of Southern Africa he plans to see.
"I'd like to get an off-road vehicle and get into the bundu and off the beaten track."
---
This work is licensed under a Creative Commons Attribution-NoDerivatives 4.0 International License.
Please view the republishing articles page for more information.
---