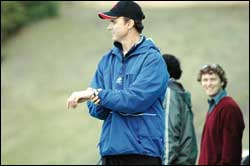 Fare thee well: Pierre le Roux (above) and Charlie Stuart have ended their coaching terms at UCT.
This year, the UCT Hockey Club bid adieu to two of its most loyal servants - Pierre le Roux and Charlie Stuart, who've been involved with the club for 16 and nine years, respectively.
Le Roux and Stuart will no longer be coaching at UCT come 2007.
Le Roux, a lecturer in UCT's Academic Support Programme for Engineering in Cape Town and coach of the men's first team, calls the impact the club has had on him "multidimensional".
"As a lecturer in teaching and learning, my focus falls on student empowerment," he says. "It helped me grow as a coach to becoming less authoritarian and more of a facilitator."
Le Roux joined the hockey club as a player in 1991, and began coaching the third and fourth teams in 1994. He's been coaching at the club since, in charge of the men's first team from 1998-2000 and 2003-2006.
He's also served as coach and assistant coach to both the South African and South African U21 Men's Teams. This year, he coached the national team when they played New South Wales, and was also the assistant coach for the South African team that took part in the Azlan Shah Cup in 2005.
The highlight of his UCT coaching career, Le Roux says, was leading the UCT first side to the club championship title in 2003, which led to the team bagging both the UCT Sports Team and Performance of the Year Awards. Other achievements during his tenure include winning two SASSU titles, three Western Province indoor league titles and four Western Province Grand Challenge league titles.
But Le Roux has also served the club in other capacities - as chairperson and club captain. During his term he witnessed the transformation of UCT sports - notably when all sports bodies merged - and the first UCT astro turf being laid under his watch as chairperson.
With restructuring in South African hockey and a new national coach selection process, Le Roux said he will be involved in the coaching and preparation of the South African team in the buildup to the 2008 Olympics in Beijing.
(Oh yes, he's not leaving UCT, but just won't be coaching hockey here anymore.) Also starting off as a player with the club, Stuart climbed the ranks to become club chairperson in 2000 and 2001, assistant coach in 2003 and then women's first XI coach in 2004. He calls his nine-year tenure with UCT hockey "extremely rich and rewarding".
Of his three-year stint as coach to the women's first team, he says he had been "blessed with a group of talented, committed and balanced players and fine individuals". The true reward, he said, was the team's great progress and growth.
A few highlights he mentioned were winning promotion from the SASSU B-Section in 2004 and then almost winning the A-Section in 2005, beating the fancied Stellenbosch in the semi-finals, and being named as the winners of the 2005 UCT Performance of the Year sports award. And then there was also, however briefly, the time they overtook Maties in the league standings earlier this year.
Dubbed Dolfie - his players know why - and currently working as assistant manager at PricewaterhouseCoopers (SA), Stuart is getting married in January.
"My wife and I plan to head off overseas for a few years to travel and explore before starting our own little team," he says.
---
This work is licensed under a Creative Commons Attribution-NoDerivatives 4.0 International License.
Please view the republishing articles page for more information.
---