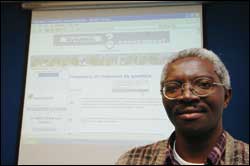 Contact: Dr Dick Ng'ambi has brought students and lecturers closer together through a Dynamic Frequently Asked Questions environment, an online consultation tool where students can get 24/7 feedback on questions and discussions.
Imagine the scene, possibly played out at universities across the planet countless times every day. A student sits in a class of hundreds, totally befuddled by what the lecturer's on about and itching to ask a question that may shed some light on the topic. But, as many do, the student remains mute for fear of sounding like the class dunce.
What to do?
At UCT, Dr Dick Ng'ambi has an answer for such shrinking violets. Springing from his doctoral research, Ng'ambi, co-ordinator of research and learning design with the Centre for Educational Technology (CET), has developed an online tool by the name of DFAQ, short for the Dynamic Frequently Asked Questions. A few months ago Ng'ambi piloted DFAQ in the School of Management Studies, the Centre for Film and Media Studies, and the Department of Information Systems.
CET describes DFAQ as an "intelligent and dynamic anonymous collaborative knowledge-sharing tool". At the nuts-and-bolts level, it is a website - "environment" in CET terminology - where students can anonymously pose or answer questions on work covered in lectures and tutorials.
The anonymity allows students to ask questions they would consider, well, silly, yet critical in understanding the material. (More often than not, says Ng'ambi, the silly questions are the ones on everyone's lips.)
Not only do students participate, but so do tutors and lecturers. As a matter of course, lecturers receive emails whenever new questions are posted.
But what sets DFAQ apart from similar online facilities where students can find class notes and readings, chat with classmates, etc? Think 24/7 use.
The trouble with similar online tools is that they wrongly assume that students have access to computers once they're off the campus, says Ng'ambi. That's not always the case, and no computer means no access to online resources. What most students do own these days, of course, is that other piece of advanced mobile technology called the cell phone. So DFAQ allows students to post questions - again anonymously - and receive responses via SMS.
DFAQ appears to have done students the world of good. By keeping track of email addresses and cell numbers - not revealed on the site, but which must be indicated - administrators have seen that more students have joined in discussions than would in class. And they're doing better at their work, as well.
"We've found that the performance of many students is improving," says Ng'ambi. "Our assumption is that maybe it's the lack of interaction or lack of questioning that contributes to poor performance."
Ng'ambi has published and spoken at conferences widely on the topic and his findings.
His assumption may still have to be tracked some more, but there's little doubt that DFAQ does grab students' attention, and it does encourage them to take greater responsibility for their learning. This according to Suki Goodman, a lecturer in organisational psychology and human resource management in the School of Management Studies, who piloted the programme.
"The traffic on the DFAQ in my undergraduate course is high - indicating that students experience real value from the environment," says Goodman. "Students appreciate the anonymity of the tool and this encourages them to ask questions they might not feel able to in the lecture period. The tool decreases the distance between lecturer and students and increases the degree of communication and information sharing."
It also gives running feedback to lecturers on teaching and learning, handy information that usually comes only at the end of the course when students fill in their evaluation slips.
There's also been an offshoot for staff. In another pilot, the Department of Information Systems is using a DFAQ site where staff of all ranks and students can anonymously post questions to the HoD, Kevin Johnston.
And just as with the student version, reports Ng'ambi, questions flew in thick and fast there as well.
---
This work is licensed under a Creative Commons Attribution-NoDerivatives 4.0 International License.
Please view the republishing articles page for more information.
---