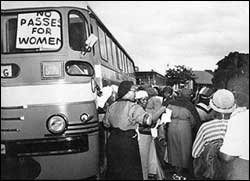 Women rally to protest against pass laws.
By Nazeema Mohamed, manager, transformation office
On August 9, 1956, approximately 20 000 women marched to the Union Buildings in Pretoria to petition Prime Minister JG Strijdom on the extension of pass laws to African women. As they handed over the petitions, they sang:
Wathint` abafazi, Strijdom! Wathint? imbokodo uzo kufa! Now you have touched the women, Strijdom! You have struck a rock (You have dislodged a boulder! You will be crushed
The march was and remains a momentous occasion for South Africa and South African women. It represents an incredible moment in our history. A moment we still know too little about. It is unprecedented and has since not been matched.
I believe there have been major social and political gains since the 1950s but there are also a large number of concerns today that deserve the level of mobilisation that took place in 1956. Issues of poverty and violence are key among these and are as curtailing and restrictive to the vast majority of South African women as they were in the 1950s.
How much has changed since the women's march? How do we as women measure our progress or sometimes lack of progress in present day South Africa? I specifically would like to know what women in academia are thinking. In South Africa women in academia are not progressing at the rate they should be and black academic women remain on the bottom rungs of the academic ladder. (See Department of Science and Technology [2004] Facing the Facts: Women's Participation in Science, Engineering and Technology.)
Knowledge production in South Africa continues to be the terrain of white men. Now, as "native clubs" emerge to correct imbalances of the past, one wonders about the presence of "native" women in these new formations. Are black women there? Are they being heard? What is going on?
I was asked to write a short piece about National Women's Day. The brief was not restrictive and I decided to take this opportunity to raise a few concerns that I have on the issue of gender equity at UCT:
I believe that women at UCT, both academic and PASS staff, are not organised as a lobby group. In addition, we do not have agreement on key equity objectives and therefore make no impact on policy decisions insofar as they affect women in their daily existence at UCT
The position of women in academia and the concerns raised by academic feminists appear to have disappeared from the higher education policy agenda in South Africa
Women's studies and gender studies programmes appear to be in danger at some of our universities
The position of academic women at UCT, particularly black academic women, is in crisis. The figures below say it all (see table)
If we tally the number of African women academics at UCT, we are presented with 15 academics (2%) out of a total of 770. The total count of black women academics at UCT is 59 out of 779
Black academic women at UCT do not feel valued. (Reports to my office; Also see UCT staff climate survey 2003)
I would like to conclude with the fact that all departments and faculties have completed employment equity plans for 2006 to 2009. The overall institutional employment equity plan will be presented for comment to the Joint Consultative Forum on Employment Equity. The plan will also go to Senate and the Institutional Forum for advice to Council. Council signs off the plan. I would like to encourage academic and PASS women (and men) to submit comments on whether the employment equity plan goes far enough in meeting the needs of women as a designated group and if they do not, I would like to suggest that we work jointly in developing a gender equity strategy for the university.
* Racial categories used are defined by the Employment Equity Act (1998).
Rank
African
Coloured
Indian
White
Black Total
Female Total
Total Male and female
Prof
1
0
1
23
2
1%
25
13%
187
Assoc. Prof.
1
2
3
45
6
3%
51
30%
172
Snr. Lect
5
12
4
83
21
9%
104
42%
247
Lecturer
8
18
4
61
40
23%
91
53%
173
---
This work is licensed under a Creative Commons Attribution-NoDerivatives 4.0 International License.
Please view the republishing articles page for more information.
---