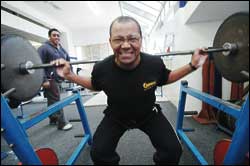 Strongman: Jeffrey Johnstone shows the form that's won him gold at the National Powerlifting Championships, where Euraima Tobias (at back) also took first place in an event.
Jeffrey Johnstone has been in the powerlifting game for donkey's years, but it is only this year, aged 52 and after a decade-long break, that he made his first appearance at the National Powerlifting Championships.
And a memorable one it was at that for Johnstone, who won a gold medal in the 75kg master's category at the event, held in Tshwane in June. He pushed and lifted a total of 662.5kg over the three lifts - bench press, squat and deadlift.
Johnstone, a shift supervisor in the Sports and Recreation department at UCT, did competitive powerlifting from the early 1980s to the early 1990s, but then took time away from the sport. Until early this year, that is.
"The bug bit me," he explains. And after the 15-year lull, he's come back wiser, he says.
Working with UCT coach Ron Collins - seven-times world powerlifting champion and the first man to lift ten times his body weight over the discipline's three events - Johnstone has steadily been working on his comeback. Collins is a big cog in that plan, says Johnstone.
"With his experience, being in the game for so many years, he was a great plus for us all."
The "us" he's referring to are the many other lifters under Collins' wing who bagged medals at the Tshwane competition. That includes UCT student Euraima Tobias, who won gold in the 100kg junior section.
Four other Collins protégées, Donald Julius, Karl Christians, Paul Jaffa and Eric Hofmeyer, all representing Western Province, took gold in their respective events as well. (With its five gold and three silver medals, WP missed out on Best Team Award by just one point.)
Johnstone is just getting warmed up. He's got a couple of small competitions ahead this year, but plans to be lifting for a long time still.
"With my training, I'm actually getting stronger all the time."
So he should be throwing his weight around for a while yet.
---
This work is licensed under a Creative Commons Attribution-NoDerivatives 4.0 International License.
Please view the republishing articles page for more information.
---