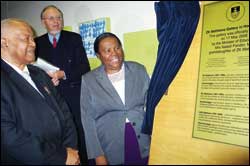 Minister of Education Naledi Pandor unveils the ZK Matthews gallery plaque. With her are her father, Joe Matthews, and deputy-vice chancellor and vice-principal, Prof Martin West.
The atrium in the Hoerikwaggo building, home to the Centre for Higher Education Development (CHED), has been named the ZK Matthews Gallery in honour of the intellectual activist and struggle icon, Zachariah Keodirelang Matthews.
The Minister of Education, and Matthews' granddaughter, Naledi Pandor, was guest of honour at the ceremony.
In her address Pandor said: "By giving new names to places or spaces we signal to our citizens, our students or alumni, that people who were once excluded are now included."
This reflects Matthews' life, which was dedicated to using education as a key to unlocking the minds of the oppressed and casting their eyes to freedom.
Matthews was a pioneer in South African history.
In 1923 he was the first black person to obtain a BA degree at a South African institution and in 1930 he was the first black person to earn an LLB degree.
"He lived his life ensuring that his commitment to the people of South Africa would be shown through enhancing their access to quality education and through adding intellectual and practical weight to the struggle for freedom," said Pandor.
As a lecturer at Fort Hare University, Matthews' influence helped to shape the university's historic reputation as the intellectual home of resistance to colonialism and apartheid.
Part of his great legacy to South Africa and the continent was in his training of a cadre of students who went on to become pivotal icons of the liberation struggle, including Nelson Mandela, Oliver Tambo and Mangosuthu Buthelezi.
Other students went on to assume leadership roles in the anti-colonial struggles in sub-Saharan Africa, students like Sir Seretse Khama (Botswana) and Charles Njonjo (Kenya.)
In his address at the third TB Davies Lecture at UCT in 1961, Matthews said that "the central factor in the African awakening is the emergence of new ideas, strange men and other ideas".
He also spoke of the role of universities in making a direct contribution to the cause of freedom and equality.
Vice-chancellor and principal Professor Njabulo S Ndebele said: "We believe his call defines the work of the units in this building. It is through this educational development work that we seek to honour what was his lifelong commitment and passion."
CHED promotes equity within UCT by providing developmental programmes for talented students from educationally disadvantaged backgrounds.
Programmes such as the Alternative Admissions Research Project provide the opportunity for talented students who have not met regular entry requirements to study at UCT and reveal their full potential.
"We believe that ZK would have been pleased to know that his name graces a space of opportunity and learning, one that mirrors his own furthering of African education as 'the key to breaking free from the restrictions of poverty and oppression'," said Professor Ndebele.
The Minister concluded her address with the thought-provoking question: "How do we use teaching to create a new ethos in our young people, so that they will continue the legacy of people such as ZK Matthews?"
One answer lies in teachers such as Sibusiso Maseko from Zwelibanzi High School in Durban, who was presented with the Stella Clark Teachers Award at the ceremony.
The award honours teachers who go beyond the call of duty to provide excellent education to inspire their pupils to greater heights.
---
This work is licensed under a Creative Commons Attribution-NoDerivatives 4.0 International License.
Please view the republishing articles page for more information.
---