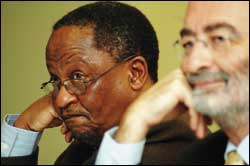 In the hot seat: Vice-Chancellor and principal, Prof Njabulo S Ndebele, and Chair of Council, Geoff Budlender, had much to think about at last week's Lekgotla.
In August last year, as he began his final term as vice-chancellor and principal of UCT, Professor Njabulo S Ndebele called for his first Lekgotla. The debate at that meeting, mostly related to transformation, led to a special forum and, in October last year, to Prof Ndebele's Living Transformation document. Last week, Prof Ndebele hosted his second Lekgotla, with the aim to discuss this document and to debate creative ways to give life to its key elements and to absorb it into "day-to-day campus reality". At the Lekgotla, Prof Ndebele started off by putting the university's mission statement under the spotlight. After 10 years, its goals - and how well the university has gone about living up to it - perhaps need some looking at, Prof Ndebele said. "The drift of all these questions suggest to me that our mission statement might remain largely intact, but that we might have a different understanding of how we may have actualised it, and how that resulting understanding would give us more confidence to visualise next stages." Prof Ndebele also spoke on the Khuluma project, a new initiative to foster debate and conversation on transformation at UCT. Following the VC's opening talk, the floor was opened to questions and discussion. The university's hotly debated mission to be a "world-class African university" enjoyed some discussion, and members of the Student Representative Council (SRC) had a few points to raise, notably on student fees. But, as in August, transformation again took centre stage. "I think there's a clear sense around the room that we should do better than we are doing," said Chair of Council Geoff Budlender. "The greatest threat to UCT would be complacency."
---
This work is licensed under a Creative Commons Attribution-NoDerivatives 4.0 International License.
Please view the republishing articles page for more information.
---