Boost for ophthalmic nursing
In 2003, UCT was approached by the Provincial Health Department who requested that an ophthalmic nursing programme should be introduced as no training was available in the Western Cape. As such, targets for achieving the 2010 Health Plan and 2020 Vision for All Programme were in jeopardy. The Division of Ophthalmology at Groote Schuur Hospital, which deals with around
11 000
inpatients,
33 832
outpatients and
2 496
operations annually, is seriously understaffed by ophthalmologists, particularly at consultant level, and ophthalmic trained registered nurses. To this end, the Provincial Health Department has given the Division of Nursing and Midwifery a cheque for
R150 000,
funding one year of sessional lectures and clinical supervisors. The division introduced the Postgraduate Diploma in Nursing (Ophthalmic Nursing) last year and eight students registered. Ophthalmic nurses will be trained to provide secondary-level eye care, run regular clinics at the district clinics and hospitals, and train primary health care workers. The recent cheque handover was attended by Professor Julia Mekwa, head of the Division of Nursing and Midwifery; Una Kyriacos, one of the division's lecturers; and Florence Africa, acting human resource director of the Provincial Government of the Western Cape.
New UCT collaboration aims to end skills development confusion
A new course called the A-Z of Skills Development in the Workplace has been designed to relieve much of the confusion and troubles many businesses have experienced in their efforts to train staff. Presented by the GSB and the Professional Education Project at the Faculty of Law, it targets HR practitioners, development facilitators and trainers, giving them the latest insight on legislature and a guide to implementation best practice. According to the director of the course, which runs from March 30 to 31 in Cape Town, Maxine Adams of consultancy HR Solutions for Tomorrow, the new programme is the first of its kind in skills development management and comes as initiatives by government have recently placed an emphasis on business as drivers of skills development. "Finance Minister Trevor Manuel in his Budget 2006 once again emphasised the country's focus regarding skills development and that this is imperative to achieve 6% growth. As a result, the budget in general states that the skills development focus will be regarded as a vital process to drive the macroeconomic environment in SA forward," she said. The programme will also enlighten skills development role-players on the avenues available to them for training staff, including universities and business schools which can tailor-design programmes in partnership with organisations. For more information on the programme, phone (021) 406 1346 or e-mail tracym@gsb.uct.ac.za. You can also go to www.gsb.uct.ac.za/workplaceskills.
Latin music in Mowbray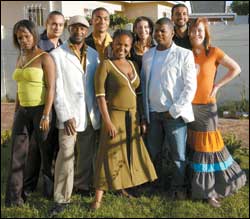 Tucan Tucan and Salsa Candela - both bands field a score of UCT graduates and students - will perform alongside UCT Radio DJs at the Mowbray Town Hall (along Mowbray main road) at 20h00 on Saturday,
March 25.
A dance competition will also take place at the concert. Tucan Tucan counts among its gigs the North Sea Jazz Festival, the Villa Celimontana Jazz Fest in Rome, and, for four straight years, the Cape Town Jazzathon. The band debuted with their album
Xiluva
in 2003. Their song
Slow Jam
reached the P4 Radio top-ten charts, and the video for the song
Ratanang
was nominated as best video in the jazz category at the Channel O Awards. Tucan Tucan will release a second album in May or June. The cover charge for the Mowbray concert is R30. For more info, call Frank or Muriel at
(021) 706 3495
or
082 498 3743.
Call for Volunteer Actors
Internationally acclaimed theatre director Peter Krummeck is calling for budding actors to join him in devising a free-form drama based on the Book of Job that will examine the contentious issues that HIV/AIDS throws up in South Africa today.
Actors can be aged between six and 60, with a social conscience. No formal training is required.
Volunteers will be expected to meet for about two hours, three times a week from March 25 at St Saviour's Church in Claremont.
The first performance will take place on Saturday, May 13.
Interested actors should apply by March 20.
For further information contact Beverly Hendricks or Ashley Peterson at Fikelela on (021) 465 1557.
---
This work is licensed under a Creative Commons Attribution-NoDerivatives 4.0 International License.
Please view the republishing articles page for more information.
---