Production highlights forced removals
Magnet Theatre's highly-acclaimed outdoor physical theatre production Onnest'bo is being restaged at the Homecoming Centre (District Six Museum's extension space at 15 Buitenkant Street) until August 6. Originally created to celebrate the return of the first three families back to District Six, and to highlight the issues of forced removals in South Africa, Onnest'bo builds on the idea of carnival - a joyous return - setting out to recover a sense of community and history. It is the first theatre production to be staged in this venue. Directed by Mark Fleishman and Jennie Reznek, the performance is carried out through the physical language of the body with visual images, and the music used is a collage of different styles from that particular place and time. The production has already been staged in school halls and on sports fields throughout the Western Cape, as well as in the Company Gardens' amphitheatre. Fleishman says the story of forced removals is one that should never be forgotten. "It should be repeated to new generations of audiences from time to time and for this reason we wanted to present it again to give it another life. We also wanted to open up the space at the Homecoming Centre at The Sacks Futeran Complex as a venue for creative arts." Onest'bo has a cast of seven that includes Reznek, Riana Alfreds, Stefan Blignaut, Mdu Kweyama, Jill Levenberg, Thami Mbongo and Charles Tertiens.
Bookings can be made at Computicket outlets, by calling 083 915 8000, on line at www.computicket.com or through Magnet Theatre on tel 480 7173.
Forum fosters health collaboration
The European and Developing Countries Clinical Trials Partnership (EDCTP) is hosting the EDCTP Forum 2005 in Durban from October 3-5. The forum aims to foster closer collaboration and networking between European and sub-Saharan African partners involved in health research and capacity building in Africa, especially in HIV/AIDS, tuberculosis and malaria clinical trials. It also provides a platform for feedback on new research developments in these fields. Several recognised international experts will deliver state-of-the-art presentations and facilitate round-table sessions. The EDCTP Forum 2005 theme is HIV/AIDS, tuberculosis and malaria in Africa: From knowledge to implementation. For more information please visit www.mrc.ac.za/conference/edctp/ or contact Riana Coetsee on tel 021 938 0839 or e-mail coetsee@edctp.org.
UCT promotes development of city
UCT will promote the development of the city of Cape Town after having been made a formal member of the Cape Town Partnership. Deputy Vice-Chancellor Professor Martin Hall will represent UCT on the board, which brings together the office of the Mayor of Cape Town, Nomaindia Mfeketo, the office of the Premier of the Western Cape, Ebrahim Rasool, and Cape Town's private sector.
Hall said UCT has a role to play in developing the economy of the Western Cape.
"It is important for higher education to be involved because we are a public organisation and we have a role to play in that respect. Half of our graduates are from the Western Cape and in this way we make a large contribution to the skilled work force. The partnership also connects us with major private sector interests in continuing urban development projects." The board meets once a month and Hall will attempt to find ways of putting UCT people with particular interests and skills in touch with the provincial government and municipalities. "We have unrealised potential at UCT to make this happen," Hall said. "UCT has, for example, urban planners so the city doesn't need to turn to international experts when they can find such expertise closer to home."
Poster services available
To mark the installation of their new high-resolution, large format full-colour digital printer, Imago-visual at Groote Schuur Hospital is offering reduced prices for poster printing from August to November. Poster printing prices for the special will be A0 - R260, A1 - R150 and A2 - R80. As an academic and scientific in-house poster service, they also offer printing from disc or e-mail, poster creation (flat rate of R400 per poster, including design and layout) and matte laminations. As a recognised UCT vendor, staff can make payments using fund/cost centre numbers. Imago-visual can be found in L51 Old Main Building, Groote Schuur Hospital, and they can be contacted on tel 404 6236 or cell 082 717 0303.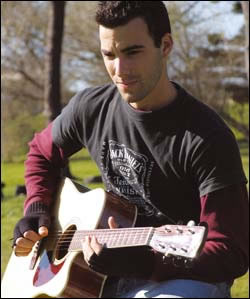 Student releases debut CD
Third-year BSc (environmental science, economics and oceanography) student Mark Allan will release his first CD Passing Lines and Growing Times at the Independent Armchair Theatre in Observatory on July 28 at 20h30. Entrance is R10 and the CD will be on sale for R80.
Allan recorded this debut album in his home studio in Pinelands and is produced by Guy Tanzer and De Wet van der Spuy. The 12-track CD features Allan's own brand of music: best categorised, he says, as "love ballads with a folk rock feel". Allan plays the acoustic guitar on all the tracks, as well as the harmonica on three. He has also penned the lyrics, with three songs written during his travels to America and the United Kingdom.
"One of these three songs has been earmarked to be the first single on my album and is titled Take Me to Your Buddha, which looks at the cultural shock that I experienced during my stay in America."
Allan has played guitar since the age of 16 and comes from a musical family. Last year he appeared in the Revlon24seven men's fragrance advert, which ironically, he says, is about musicians trying to live their dreams.
Third-year BSc student Mark Allan will release his debut CD, Passing Lines and Growing Times, on July 28.
---
This work is licensed under a Creative Commons Attribution-NoDerivatives 4.0 International License.
Please view the republishing articles page for more information.
---