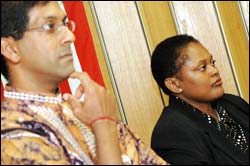 Under the spotlight: Dr Jendayi Frazer (right), US ambassador to SA, was the most recent guest speaker at AAH to be given the third degree at AAH, with Assoc Prof Sagadevan Mundree who soon vacates the position of warden.
With incumbent, Associate Professor Sagadevan Mundree, preparing to vacate the post in a few months, UCT is searching for a new warden for All Africa House (AAH).
Throughout the year, the middle campus residence put up scholars and researchers doing work related to Africa, be they from sister institutions in Africa or elsewhere. As such, it falls on the warden to develop and maintain the profile of All Africa House, and to pave the way for social and scholarly exchange between guests, and between All Africa House and the rest of UCT. In addition to keeping an eye on the day-to-day running of AAH, the warden will also be expected to arrange a host of events, including dinners and special seminars.
And, without doubt, the regular Friday evening seminars have become a highlight over recent years, with Mundree setting the bar very high. He's made sure the subjects are always topical and thorny, and has repeatedly managed to attract some very high-profile speakers to AAH. Just in the first few sessions of 2005, for instance, he's covered hot potatoes such as Frankenfoods (aka genetically-engineered foods), the bumpy peace processes in Israel (with the Palestinian ambassador to South Africa at the podium) and the Democratic Republic of Congo (the Congolese ambassador this time), and affirmative action in the US.
The most recent speaker to grace AAH was American ambassador Dr Jendayi Frazer who talked on US foreign policy towards Africa, touching on US-Africa trade agreements, American assistance to combat AIDS in Africa, and debt relief to strapped countries, among other things.
Frazer was then grilled - as happens to all visitors - on topics such as past American support to ousted Liberian leader Charles Taylor, South Africa's initial demurs to the African Growth and Opportunity Act (AGAO), and why the US has balked at joining the International Criminal Court.
It's this kind of open debate the new warden of All Africa House will have to keep going. Academics eager to take on the challenge can contact Mundree at mundree@science.uct.ac.za, or Lesley Shackleton, chair of the All Africa House board, at lys@world.uct.ac.za for more information.
The closing date for applications is May 1.
---
This work is licensed under a Creative Commons Attribution-NoDerivatives 4.0 International License.
Please view the republishing articles page for more information.
---