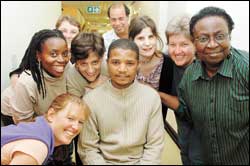 Winning formula: Mark Williams (middle) with colleagues of the School of Health and Rehabilitation Sciences.
Mark Williams of the Division of Nutrition and Dietetics is probably walking on air. Nominated by lecturer Aila Meyer and her colleagues as this week's Five-Star Staffer, the collective of accolades he's received would weigh down any other superhero.
In charge of mixing and matching venues and equipment needs with lectures, seminars and exams, he seldom puts a foot wrong, is adept at smoothing ruffled feathers, and handles a string of allied tasks with the skill of a juggler. He's friendly and approachable to boot.
Servicing five divisions in the School of Health and Rehabilitation Sciences, Williams keeps to a strict regime: he gets in early each day ("Way before anyone else," Meyer says) and leaves late, never before the following day's activities have been prepared.
He's also involved in a host of administrative tasks, niggly things that often take more time and trouble that they warrant or suggest. He photocopies, delivers post, sees to students' needs, tracks down documents for academics, multi-tasking as he goes.
"It's not uncommon to see Mark racing from one end of the building to the next to set up equipment at the next venue for lecturing commitments," Meyer says, "and he does this unfailingly."
She describes him as the backbone of the school's activities.
"Nothing is ever too much for him. He is a wonderful, kind, caring, positive person, always willing to help. I don't know what we would do without him.
Williams' secret is interest; interest in what he does and the people he helps.
"I'm a workaholic. I work through lunchtimes to see that staff and students get what they need. I like to look after other people."
And though the chocolates, thank-you tokens and praises keep coming, what he probably needs is a pair of roller skates.
---
This work is licensed under a Creative Commons Attribution-NoDerivatives 4.0 International License.
Please view the republishing articles page for more information.
---