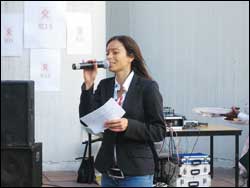 Sweet offerings: MC Suga from Good Hope FM encourages students to get involved in HIV/AIDS education.
Students took the opportunity on a typically windy Cape Town early eve to unwind from exam stress and enjoy food, drink and music by UCT student and DJ, Jeremy Chibuye -aka The Jayman - at an open-air party held outside Tugwell and Leo Marquard.
But this was more than just a good time. The gathering on Friday, November 4, was the official launch of a new peer-mentoring project - AIDS Community Educators, or ACEs for short.
It replaces the Students' HIV/AIDS Resistance Programme (SHARP).
Cal Volks, director of the HIV/AIDS Unit, described the initiative as part of the unit's continuing commitment to developing and empowering students at UCT, to encourage them to actively engage in the field of HIV and AIDS.
These sentiments were echoed by the peer programme coordinator of the unit, Lucina Augustine, who described the project as "an exciting opportunity to make a difference to the lives of other young people".
MC Suga from Good Hope FM encouraged students to get involved in the new project, stressing that the pandemic needs to be tackled in youth-centred, innovative, creative and empowering ways.
Reproductive health expert and guest speaker Mpho Ndebele (wife of Professor Njabulo Ndebele) said the goal of ACEs is to "strive to create AIDS-competent communities".
Ndebele spoke of the imperative of communities to own their problems, respond to them and identify solutions.
She explained that ACEs would assist communities to "gain knowledge and skills for solving their own problems but also help them to tap their own resources".
"It is imperative that [UCT] uses its resources to ensure that members of the communities realise their own strengths in challenging HIV and AIDS and becoming self-reliant," Ndebele said.
"This new programme aims to do that by creating HIV/AIDS mentors and educators, based on campus and in schools surrounding UCT."
Moonira Khan, executive director of the newly renamed Department: Student Affairs, explained how UCT was working collaboratively with students' input to create a holistic, multi-faceted education where students are not only engaged in learning in the classroom, but also through social and community involvement.
She described ACEs as an opportunity for students to contribute to acquiring a holistic education and to shape the lives of their peers and school learners.
SRC President Siphiwe Hlongwane stressed that a key role for the university is to create leadership for future workplaces and civil structures of our country. He said that students should learn to take responsibility for their own lives and play a role in strengthening society.
He described the development as an opportunity for students to partner with UCT staff and receive training as well as work in the communities surrounding UCT, while playing a vital role in the struggle against HIV and AIDS.
A number of students have been selected for participation in the project, which will equip students and school pupils with the necessary knowledge, skills and motivation to prevent further HIV infections, and to develop the necessary support structures required for people infected and affected by HIV and AIDS.
The project will kickoff in earnest during orientation week in the new year.
---
This work is licensed under a Creative Commons Attribution-NoDerivatives 4.0 International License.
Please view the republishing articles page for more information.
---