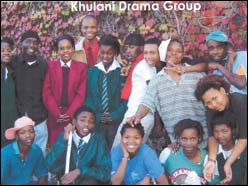 Siyakula drama group, an initiative of Akhona Baba (white cap).
A UCT cleaner is desperately trying to raise funds for his township drama group to stage a play he has written and directed.
Akhona Baba, 25, runs the 10-member drama group, Siyakhula Productions, as part of a youth development programme in Delft, where he lives.
He says the group's eight teenagers are raring to put on his play Crime Doesn't Pay at the Ikwezi festival at the Baxter in March next year, and also at the Grahamstown festival in June.
"We're okay for the Ikwezi festival; it's for Grahamstown that we need funds to get the youngsters there and back and accommodated," says Baba.
He describes himself as a director, writer, actor and poet who is determined to make his mark.
Shortly after a Cape Town holiday convinced him to move to the Mother City from the Eastern Cape in 2000, he started a drama group in Delft. He had belonged to a similar group in his hometown of Cofimvaba since 1993.
"The first drama group, called Kulani, sort of fell apart about two years later, but I revived it in 2004, and we named the reformed group Siyakula," says Baba.
"Our six actors and two musicians put on a production about street kids called Life on the Streets at the Ikwezi festival in March this year.
"We had three successful performances with that first production, written by Bathandwa Sonamzi," Baba says. "And I will not give up on this group," he adds determinedly.
There are eight members between the ages of 16 and 20 and an adult teacher who helps Baba manage the group.
"I've approached Mbolelo Grootboom of the Suitcase to try and get his help and I've met with the director of the Ikwezi project, Ithumeleng, as well as the marketing head, Donna."
Baba wrote Crime Doesn't Pay after attending a director's workshop hosted by the Baxter as part of this year's Ikwezi festival.
In the slump between the disintegration of his first drama group in Delft and the rise of the second, Baba made his acting debut in 2002 with a few small stage performances.
"I will also not give up on my own acting career," he says.
Baba has worked as a cleaner at UCT's botany department for two years and he can be reached on 083 976 6886 or you can contact Bathandwa Sonamzi on 082 712 6059.
- Yvette van Breda
---
This work is licensed under a Creative Commons Attribution-NoDerivatives 4.0 International License.
Please view the republishing articles page for more information.
---