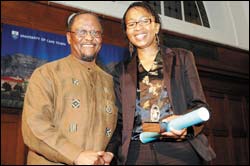 Congratulations: Vice-Chancellor and Principal, Prof Njabulo S Ndebele, with Matshepiso Dlamini, winner of the Vice-Chancellor's Student Leader Award.
It was the cigar-wagging, paint-moustached Groucho Marx who once quipped: "Only one man in a thousand is a leader of men - the other 999 follow women."
Well, students had their pick of both genders this year, going by the laurels handed out at the UCT Caltex Leadership Awards Ceremony 2005 on October 7. The occasion allowed UCT the opportunity to toast the torchbearers among its student leaders.
The 2005 winners named on the evening were:
The Vice-Chancellor's Student Leader Award - Matshepiso Dlamini
The Deputy Vice-Chancellor's Student Leader Award - Yershen Pillay
The Executive Director: SDSD's Student Leader Award - Andrea Africa
The Most Outstanding Student Leader in Community/Development Organisations - Janice Foster
The Most Outstanding Student Leader in Media - Gill Einhorn
The Most Outstanding Student Leader in Residence - Zukiswa Mqolomba
The Most Outstanding Student Leader in Societies and Organisations - James Bell
The Most Outstanding Student Leader in Sport - Jose Jorge de Castro Maia
The Most Outstanding Student Leader in an Undergraduate Student Faculty Council - Rajnish Aubeeluck
The Most Outstanding Student Leader in a Postgraduate Student Faculty Council - Chad Botha
International Exchange Opportunity Awards (all-costs-covered exchanges) - Ademola Rabui, Linda Mabhena, Heetal Harry, Gugulethu Mayisela and Pravashen Naidoo
The Sir Richard Luyt Memorial Scholarship - Taryn Potter
The Dwane Martin Memorial Scholarship - Napo Ramodibedi
The Ackerman Family Trust Scholarship - Kate Orkin.
Why this lot? Well, as the saying goes, their résumés speak for themselves. And they speak volumes.
Between them, the winners have covered just about every extra-curricular base at UCT. They've served on student bodies as varied as the Student Representative Council, the ANC Youth League, the Debating Society, Investsoc and the Hindu Students Society. Some held positions on blue-ribbon university groupings like the Admissions Committee, Senate, Council and the Institutional Forum, even the University Strategy Committee (bet you have never heard of that one).
They've represented their peers on house committees and faculty societies galore. They've kept students alert of a killer disease through the Student HIV/AIDS Resistance Programme.
They've drafted constitutions for residences and student charters for faculties. They've rallied together notoriously isolated postgraduate students. And when they wanted to explore the world beyond UCT's horizons, they struck out on their own.
As a result, they've inspired young women on the Student Assembly's Growing Girls and Launching Young Women projects, and grew a new generation of journalists on Varsity's Media School. They've run sports programmes and debating competitions in townships, and taught disadvantaged kids to swim.
They've also helped flailing learners adapt to the demands of high school. Leaders truly.
---
This work is licensed under a Creative Commons Attribution-NoDerivatives 4.0 International License.
Please view the republishing articles page for more information.
---